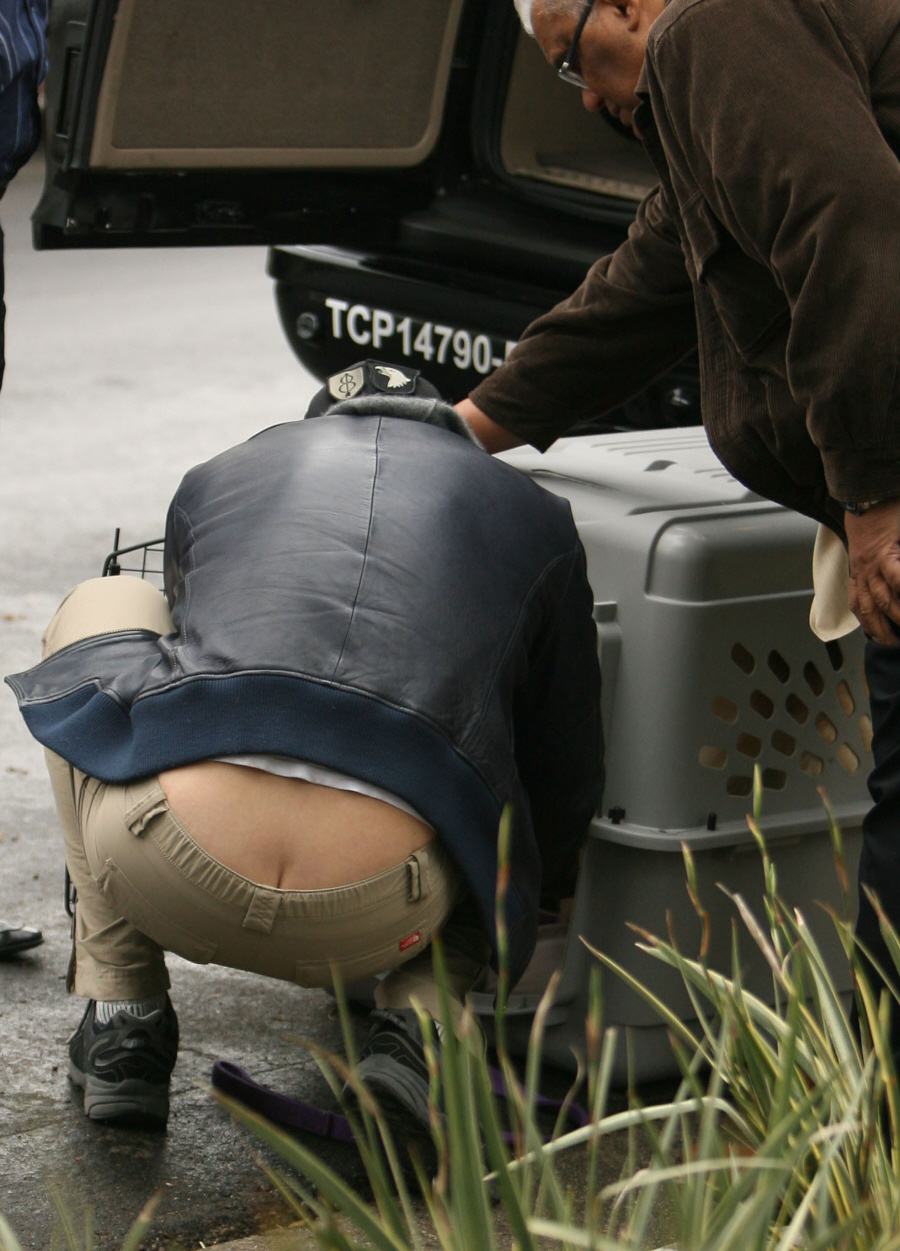 I guess this is newsworthy. Bradley Cooper has a cute butt crack. It's not some nasty plumber's butt. Bradley's muffin top looks svelte and firm. Carry on. Oh, wait, you want more? Uh… his dog is pretty. Looks like a golden retriever, maybe? Bradley looks like he takes good care of the puppy too. I bet that's one of Renee's favorite qualities about him – good to animals. Bless his heart.
Speaking of Renee, Star Magazine is reporting that she and Bradley have decided to buy a house together… so they can live in sin without getting married! Oh no! Actually, this story is totally "meh". The basic gist is that instead of living in Renee's house, they've picked out a $4 million place and they showed it to his parents:
Over the holidays, Renée Zellweger spent quality time getting to better know beau Bradley Cooper's parents — with good reason! Star can exclusively report that they are settling down in their very own love nest – and we have a photo of the couple meeting with their contractors.

In our Jan. 11 issue — on sale Wednesday — we report that Bradley and Renée are taking things to the next level by moving into a mansion in the upscale oceanside community of Pacific Palisades, Calif. And on Dec. 20, Bradley even showed their new $4 million home — a quiet, family-friendly neighborhood — to his parents, Charlie and Gloria, during a meeting with contractors!

"Bradley and Renée were proud to be sharing their new house with his parents," an eyewitness tells Star. "They looked happy together and very much in love."

Renée had already moved into Bradley's Venice Beach, Calif., home this summer. But the couple decided they need a new place to start the next phase of their relationship. "Renée has always felt that the Venice Beach place was too much of a bachelor pad," says a source. Bradley moved there after divorcing Jennifer Esposito in 2007. "And Renée didn't feel comfortable with that. She wanted a house that would be theirs, not his."

And they already have big plans to renovate their new home to make it just right. Renée, an avid cook, wants a kitchen with a center island and lots of counter space. While Bradley wants a room to fit a top-of-the-line flat-screen TV so he can watch sports on his days off. But in the end, both know that the layout of the house is less important than who they'll be sharing it with.

"They're both homebodies, and they can't wait to have a place to entertain friends and just be together," explains the source.
[From Star Magazine]
There's actually a really interesting Bradley Cooper story, although it makes me feel for him a little bit. Bradley is one of the million actors who has a part in the ensemble comedy Valentine's Day. Well, several trailers have been released, and in every one, the only parts shown are of Bradley and Julia Roberts talking and flirting. I honestly thought the two of them were the couple in the film – but apparently, Bradley's love story is the one homosexual love story shown – it's him with Eric Dane. Seriously! So, anyway, now some gay rights or gay media people are all like "why can't you show the gay guy in a trailer, chumps?"
Back in August I posted some shots of Eric Dane, shirtless and at work on the romantic comedy Valentine's Day. Dane plays a closeted football player in love with Bradley Cooper. But you wouldn't know it from any of the trailers because despite the fact that it's an ensemble film which features many different relationships, the studio apparently doesn't want viewers to be turned off by the fact that the film features a gay one.

AfterElton writes: "We weren't thrilled about the teaser trailer when it came out, because it almost looked like Julia Roberts and Bradley were a couple, but we mostly laughed it off since it was a teaser. The full length trailer dropped over the weekend, and once again, Eric and Bradley don't appear together in it. In fact, [the closest they get] is consecutive frames in the trailer. Romantic, huh? Taylor Lautner and Taylor Swift get more screen time in this two minute clip than our boys do, and they reportedly filmed their brief cameo in an afternoon – in fact, that should be all of their time in the movie. From this, you'd think they had equal billing to Julia though."
[From Towleroad]
That does suck. I would have wanted to see that relationship represented in the trailer instead of Julia puckering her lips at poor Bradley. Gah! My mom saw the trailer for Valentine's Day when we went to see It's Complicated, and she was just ecstatic that so many of her "girls" were in it (Julia, Jennifer Garner, Anne Hathaway, probably Bradley too). I know she's going to make me see it. At least now I'll know that Bradley's cute ass will be playing it gay. Silver linings, I suppose.
Bradley Cooper, showing off his ass and his dog, on December 30, 2009. Credit: Bauer-Griffin.