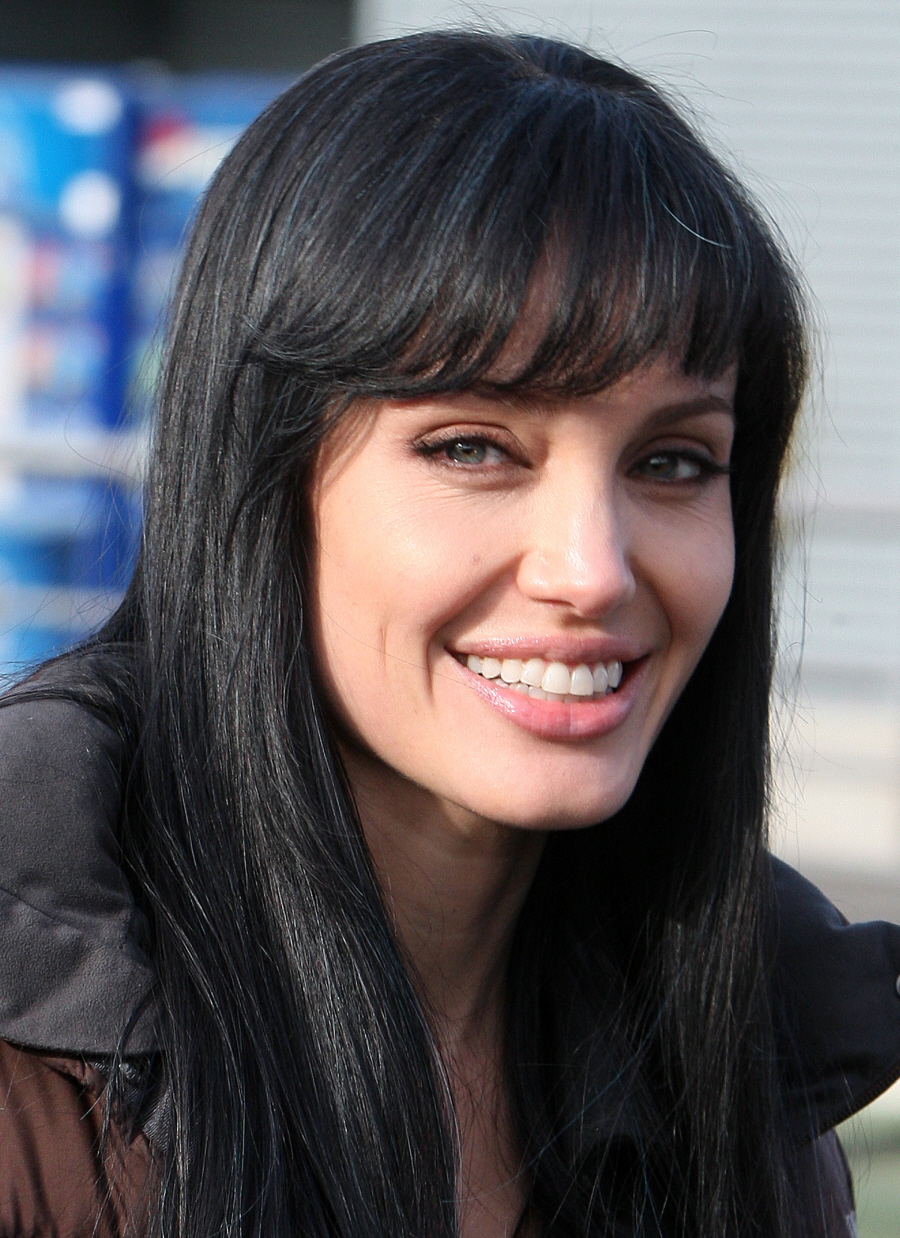 The market is currently being flooded with photos of Angelina Jolie in New York as she completes several days of reshoots on Salt, her thriller coming out in July 2010. Previously, we've seen Angelina in the worst, most obvious-looking Russian spy costume ever, and on Tuesday we saw Angelina and Brad leaving the set with daughters Shiloh and Zahara. On Wednesday, Angelina was spotted carrying one of her favorite reading materials – a book about foreign policy. Sort of. Previously, Angelina has been spotted reading Richard Haass' book War of Necessity, War of Choice: A Memoir of Two Iraq Wars, and a book party for Nicholas Kristof's Half the Sky: Turning Oppression Into Opportunity For Women Worldwide. This week's installment of The Jolie Book Club is Greg Mortenson's Stones into Schools: Promoting Peace with Books, Not Bombs, in Afghanistan and Pakistan. It's a book about building girls' schools in Afghanistan, which is cause near to Angelina's heart.
In this dramatic first-person narrative, Greg Mortenson picks up where Three Cups of Tea left off in 2003, recounting his relentless, ongoing efforts to establish schools for girls in Afghanistan; his extensive work in Azad Kashmir and Pakistan after a massive earthquake hit the region in 2005; and the unique ways he has built relationships with Islamic clerics, militia commanders, and tribal leaders even as he was dodging shootouts with feuding Afghan warlords and surviving an eight-day armed abduction by the Taliban.

He shares for the first time his broader vision to promote peace through education and literacy, as well as touching on military matters, Islam, and women-all woven together with the many rich personal stories of the people who have been involved in this remarkable two-decade humanitarian effort.

Since the 2006 publication of Three Cups of Tea, Mortenson has traveled across the U.S. and the world to share his vision with hundreds of thousands of people. He has met with heads of state, top military officials, and leading politicians who all seek his advice and insight. The continued phenomenal success of Three Cups of Tea proves that there is an eager and committed audience for Mortenson's work and message.
[From Amazon's Editorial Review]
Too much substance and not enough style? Okay, note this: Angelina is clutching the book with a hand that is stained with fake blood, obviously from the film. What incredible imagery, Angelina. Well done?
I have one more story about Angelina, but really it's an Uncool Bermuda Triangle story. Life & Style is reporting that there will be another Triangle showdown at the 2010 Golden Globes, just a few weeks away. L&S claims that since Jennifer Aniston has already been confirmed as a presenter, and Brad's film Inglourious Basterds is up for several awards, so that means a triangle showdown is in the making:
It was the moment everyone watching the 2009 Oscars had been waiting for. When Jennifer Aniston walked onstage to present an award, she stood just 12 feet from her ex-husband, Brad Pitt, and her archrival, Angelina Jolie, who were sitting in the front row. Now, as Brad and Angie celebrate five years together, Jen will meet her fears once more.

She was just announced as a presenter for the 2010 Golden Globes, taking place on Jan. 17 at the Beverly Hilton in LA. Brad and Angelina have attended the past two ceremonies together, and with Brad's movie Inglourious Basterds up for four awards, including best drama, the actor is sure to attend this year as well. "Jen can't wait to see them because she wants them to squirm," an insider close to Brad and Jen tells Life & Style.

Jen hasn't said which category she'll present, but at the Oscars, she announced best animated feature — even though Angie's movie Kung Fu Panda was a nominee. So she wouldn't shy away from presenting the best drama — setting up the chance to give the award to Brad's film! Even if such a tense moment comes to pass, Jen's not worried.

"Believe me," the insider says, "she's really looking forward to this."
[From Life & Style]
Here's the thing – while it wouldn't surprise me if Brad and Angelina came out for the Globes, which is known as the best awards show of the year because of all the booze, I doubt they'll come. Brad isn't nominated, and they usually only show up when one or both of them is nominated. Thus, Angelina parade of glittery sack dresses during the last awards season. And beyond all that, the showdown already happened at the last Oscars, and it was just sad for all parties. Sad that the cameras went straight to Brad and Angelina when Jennifer Aniston was on stage, sad that everyone made such a big f-cking deal about how "brave" Aniston was to present an award, and just all of it.
Angelina Jolie on the set of 'Salt' with her book. Photo credits: Michael Wright/WENN.com, CWNY/Fame and AAR/Fame Pictures.