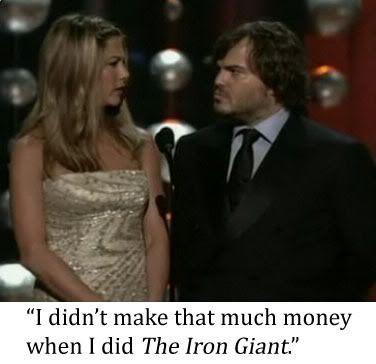 It may have seemed like it was all hearts and cupcakes between Brad Pitt, Angelina Jolie and Jennifer Aniston last night. When Aniston came to the podium with Jack Black to announce the Best Animated films, the camera (as I predicted) went straight up Brangelina's nose. And was it just me, or was it a little awkward when Jack Black started talking about Kung Fu Panda? Aniston looked like she was sucking a lemon at that moment. I know exactly what she was thinking: "I wish they put me with Daniel Craig."
As you can imagine, all of the gossip sites are having a field day with the Brange and the Aniston being in the same general area. Aniston brought her on-again boyfriend John Mayer to the ceremony and the after-parties. Just reading the difference in coverage between OK! and People, you can really tell who Aniston's publicity blabbed to first – OK! introduces Angelina as "the woman who stole Brad Pitt from [Aniston]." Give me a f-cking break, OK! . Then they follow it with a series of quotes that were probably designed to make Jennifer seem like a strong woman, but only end up making her look like she's still obsessed with all things Brad and Angelina. Here's OK!'s version:
One of the most anticipated events of Oscar weekend had been the expected face-to-face meeting of Jennifer Aniston and the woman who stole Brad Pitt from her, Angelina Jolie not at the Academy Awards themselves, but at the celeb-filled pre-Oscar "Night Before" bash on Saturday.

And while Jen made good on her decision to appear at the party, neither Brad nor Angelina even poked their head in for a second. So, instead of having their first public meeting at a party where they would be spared media scrutiny and the cameras, it was destined that it was going to happen Sunday night in front of a live, global TV audience.

Early in the Oscar proceedings, Jen stepped out onto stage with presenting partner Jack Black to announce the winners in the two animation categories. And even though the audience was filled with top-notch actors trained to keep their cool, all eyes immediately darted over to the seats near the front of the theater where Brad and Angie sat, applauding and smiling.

As a friend of Jen told OK! recently, "she has always known that this moment would happen and she's never been more ready," and you could tell by the Marley & Me star's calm and comfortable demeanor onstage.

"I was shocked at how well she held it together," one insider tells OK!. "Even if she is as over the whole situation as she claims to be, you'd think she'd have shown more frayed nerves considering the situation."

Those nerves of steel continued through the night's broadcast as Jen and her boyfriend John Mayer sat only a few seats away from Brangelina, applauding and smiling as each star's nominated category was announced.

"It's Jen who comes out of this the big winner," says the insider. "She looked good onstage; she looked good in the audience. And while she wasn't nominated for anything, Jen's movies certainly kicked much more box-office butt than either Brad or Angie's."
From OK! Magazine
It's a little bit too much, right? Like it was written by a Aniston's publicist or a 14-year-old Team Aniston girl? People magazine left out most of the bias in their coverage, but we still had to hear about how Aniston was only sitting "12 seats away"… yeah, 12 seats back, while the double-nominees Brad and Angelina sat front and center, and were the recipients of more than a dozen gratuitous cut-aways. Here's People:
While Slumdog Millionaire piled up the Oscars Sunday night, Angelina Jolie and Jennifer Aniston defied expectations and piled on the smiles – as their dual appearance at Hollywood's night of nights was as smooth as the silk gowns that filled the Kodak Theatre.

Jolie, of course, attended with her partner and fellow nominee, Brad Pitt, while his ex-wife, Aniston, was accompanied by her boyfriend, John Mayer.

Pitt and Jolie told People that their six kids were home "throwing spaghetti against the wall," while the two of them were enjoying a date night.

For their part, Mayer chatted with fellow audience member Queen Latifah, while Aniston schmoozed with Diane Lane, who was accompanying her husband, Milk Supporting Actor nominee Josh Brolin.

When it came to the seating arrangements in the Kodak, Mayer and Aniston were not far from Pitt and Jolie – just about 12 seats away.

For weeks leading up to the Oscars, it was rumored that Aniston would be a presenter at the show, though no official confirmation was released by the Academy. In the end, the Marley & Me star, along with Jack Black, presented the Animation awards.

During Aniston's time onstage, cameras panned to Jolie as she laughed while Aniston and Black joked together as they playfully announced the nominees and winners in several categories.

Later, both Aniston and Mayer clapped while Nicole Kidman introduced Jolie as one of the Best Actress nominees and while Pitt was announced as one of the Best Actor nominees.
From People magazine
Nicole Kidman introducing Angelina Jolie was actually more shocking to me than anything Aniston could come up with. I was under the impression that Kidman hated La Jolie, but Kidman really turned in another Oscar-worthy performance lavishing praise on Angelina. It was… nice. Classy.
As far as Aniston vs. Angelina: the dresses, I'm still Team Jolie on that one. Everybody was wearing that same off-white/creamy/beige color, and Aniston's dress looked just like Anne Hathaway's. Almost nobody was wearing black, and Angelina really stood out with her gorgeous dress. If you're going to wear black, wear it like that.
So far, I haven't heard anything about The Brange seeing Aniston at any parties, but if I hear about it, I'll bring it to you. Angelina and Brad are said to have skipped the party where it was thought they would meet up with Aniston.