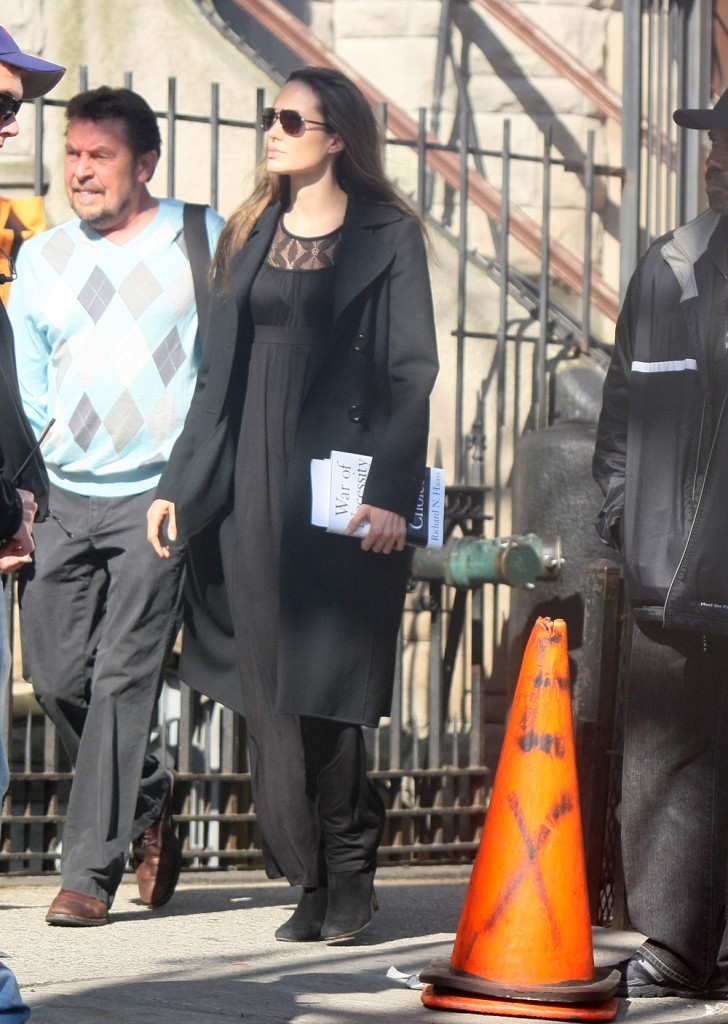 In her limited downtime, Angelina is reading a book about Iraq. The book is War of Necessity, War of Choice: A Memoir of Two Iraq Wars by Richard Haass. She has been photographed with it on the set of Salt in New York.
Haass is a fellow member of the Council on Foreign Relations (Jolie joined in 2007). He has held several political, diplomatic and scholarly positions over the years, including: Special Envoy to Northern Ireland, advisor to the Secretary of State (under Colin Powell), special assistant to Pres. George H.W. Bush, National Security Council Senior Director for Near East and South Asian Affairs, and vice president and director of the Brookings Institute. He was also one of the architects for the first Gulf War (under Bush Sr.) – what I can only assume was, in Haass' opinion, "the war of necessity".
This report is from The Daily Mail, and they're snarky about Jolie reading Haass' book for two reasons. First, they act like "How dare this mother of six have time to read a book!" Secondly, the act like Angelina is going to run for office just because she's reading a book about Iraq. Cripes.
She's had an image of everything from sex-vixen to Mother Earth and now it seems Angelina Jolie may want to add politician to that list.

The 33-year-old actress was seen carrying around the book 'War of Necessity, War of Choice: A Memoir of Two Iraq Wars' by Richard N. Haass, during her breaks filming on the New York set of her latest movie Salt.

Far from being light reading, the book, part history, part memoir, provides a complex and in depth theory of how the United States can apply the lessons learned from the two Iraq wars so that it is better positioned to put into practice what worked and to avoid repeating what did not.

The mother-of-six, who is also a goodwill ambassador for the United Nations, has made no secret of her desire to affect political change. She's has been especially vocal about what she believes is insufficient aid and funding from the U.S. and other powerful countries when it comes to refugees and disadvantaged children in developing world.

Angelina has even revealed that she now only makes movies to earn enough money to support various charities.

But the actress, may have her hands too full with her ever expanding family to add a career in politics to her ambitions. Angelina and partner Brad Pitt, have three adopted children Maddox, seven, Pax, four, and three-year-old Zahara. The couple also have three biological children Shiloh, two, and nine-month-old twins Vivienne and Knox.

She's also reportedly set to adopt another child from India this year.

Over the last two months, Angelina has been putting in gruelling hours on the set of spy thriller Salt, while Brad has been looking after their children.

Her long hours meant she often spends the night at the Waldorf Astoria hotel in Manhattan, instead of making the 50-mile drive back to her and Brad's £40million mansion on Long Island's Gold Coast.

The actress complained last year the couple barely had any time to spend together because of parenting their six children.

She said: 'Mummy and daddy need to try to figure out more time; we're working on it. Right now, we're not great about mummy-and-daddy time.'

Since the couple started dating in 2005, there has been little chance for alone time.
Angelina was already a single mother to Cambodian-born Maddox – and adopted Ethiopian daughter Zahara Marley soon after.

The family expanded their brood to include biological daughter Shiloh in 2006, adopted Vietnamese Pax in 2007 and Angelina gave birth to twins Knox and Vivienne last July.
[From The Daily Mail]
How dare she? I mean, really! Brad is looking after six children while Angelina lounges around, eating bon-bons and reading intense foreign policy analysis. The Daily Mail only approves of actresses reading Jacqueline Susann, right? Or Jackie Collins.
Unfortunately for me, I haven't read this book. But I can recommend another great Iraq book to Angelina (and whoever else): Imperial Life in the Emerald City: Inside Iraq's Green Zone by Rajiv Chandrasekaran. It is a devastating critique of the first year of our Iraq occupation, and the cluelessness of the American diplomats/nation-builders of the Green Zone. Rajiv Chandrasekaran is a Washington Post reporter and editor who was in Iraq pre-invasion, and stayed until Paul Bremer left. I'm also a big fan of anything written by Fareed Zakaria, who wrote maybe my favorite line about economics, ever: "If you want to be truly free of regulation, try Haiti or Somalia."
Images thanks to INF Photo.