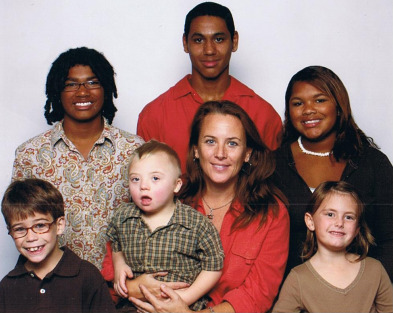 There's a lot of information online about Rosie O'Donnells' new girlfriend, a self-described "artist, doula, and director of Open Arms Campaign, a non-profit to recruit foster and adoptive families" named Tracy Kachtick-Anders from Galveston, Texas. After reading a long interview and Tracy's brief autobiography, I have to say she sounds like a genuinely great person. Some of her stories really moved me. Tracy has six children, several with special needs, and five that are adopted. She invented a sleeping aid for babies with acid reflux and special needs called The Sleep Tight Wedge. She also paints and she's very matter-of-fact about her art and says she doesn't "take it seriously." Oh and she helps advocate for LGBT rights locally and blogs about it.
Rosie's rep has acknowledged that she's in a relationship with Tracy, with whom she was first photographed on a jet ski in Miami in mid November. After the two were seen out holding hands on Miami beach, Rosie admitted it was serious. The two met online through Rosie's blog. A commenter writes "I know who that is it is the lovely lesbian artist with many children who asked you if you would like to trade art." Rosie responded "smart girl." That's really sweet! Rosie needed some happiness after all the drama over her breakup with Kelli:
Rosie O'Donnell no longer has to remain sad about being single.

She's now dating dating Tracy Kachtick-Anders, a Texas-based artist who has six children, her rep confirmed to People. The happy couple was spotted strolling hand-in-hand on Miami Beach Tuesday.

Rosie announced in November that her longtime partner, Kelli Carpenter, moved out of their home two years ago.

Tracy is an activist for LBGT adoptive rights, and she founded the non-profit Open Arms Campaign, which helps recruit foster and adoptive families. Five of her six children (ages 5 to 17) are adopted and several are special needs, she told the Examiner.

In her free time she paints and serves as a doula.
[From The Huffington Post]
This woman seems really perfect for Rosie, who also has three adopted children and one biological child with Kelli. Rosie also advocates for adoption rights for same-sex couples and they probably have a lot in common.
In her biography on TheRainbowBabies.com, Tracy mentions how difficult it is to find a long term relationship when she has a houseful of special needs kids:
Parenting is the hardest job you will ever love. It is challenging and tiring and isolating. There aren't a lot of women (that I am interested in) out there who can look past my five special needs kids to see a potential date or who want to sometimes share the bed with a sick or scared child. There are not a lot of sitters who want to take them on either. There is not a lot of time for myself after diapers, laundry, meals, and doctor appointments.

BUT, there is also nothing like waking up to a smiling little face, getting a hug and hearing, "I love you, Mom."
Aww, I really like her! She may have found a real life partner in Rosie. Stay positive, Rosie, and treat her right!
Here are some photos of Tracy and her family. One is from Examiner.com, one is from Tracy's website for her art, and two are from Rosie's website. I think the photo with Rosie is of her hugging Tracy's 15 year-old daughter.