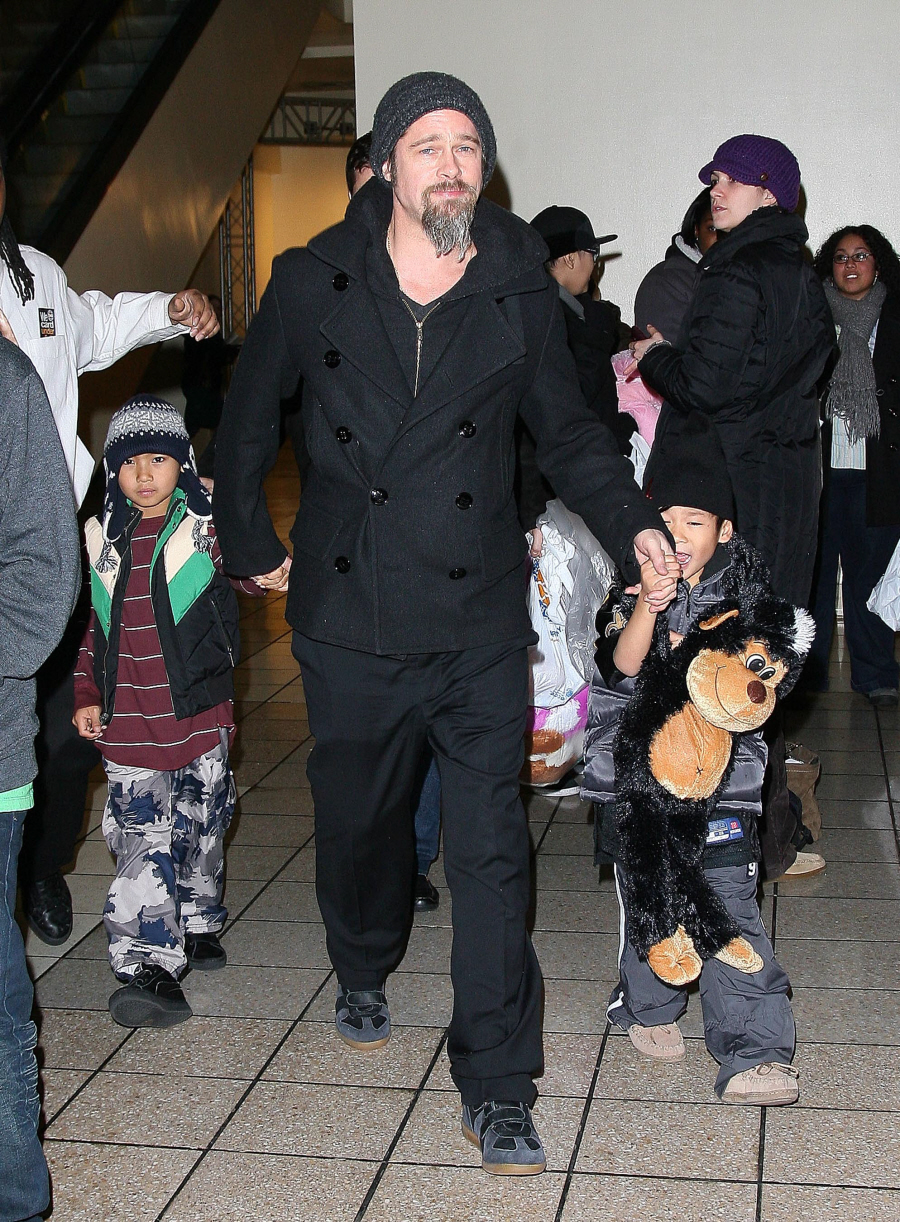 While Angelina Jolie was working her ass off doing reshoots on Salt yesterday (and in her downtime reading a book about Afghan girls' schools), Brad Pitt took their two oldest boys out for some play time. Brad brought Pax and Maddox to Dave and Busters, which was the second time (we know of) that Maddox got to go. There are actually photos of Pax smiling as they leave! I'm sure Pax smiles all the time, but he's the Jolie-Pitt child who looks most terrified of the paparazzi, so it's nice to see him enjoying himself out in public. Oh, and Brad's brother Doug and Doug's son joined them too! There's more from Us Weekly (including someone shouting "I love Jennifer Aniston" like a 12 year old) and, by the way, this story was filed in the "Moms and Babies" section of Us Weekly's site:
It's a boys' day out for Brad Pitt and sons Maddox and Pax!

The star, 46, and his younger brother Doug took the two boys to Dave & Buster's in New York City's Times Square Wednesday afternoon, UsMagazine.com confirms. (Pitt took Maddox to the same Dave & Busters back in September.)

While at the arcade restaurant, Pitt helped Pax, 6, with the controls on "The Big One," an oversized crane used to grab stuffed animals. After several attempts, they won a giant stuffed animal.

The group — surrounded by four security guards — then moved on to war game "Razing Storm." Pax and Maddox, 8, took hold of the life-size guns and shot at the arcade screen for a few minutes before moving on.

While the bearded Pitt watched them play, an eyewitness tells Us he handed out extra Dave & Buster's game cards to a few children. One boy jumped up and down in excitement when the star gave him the card and patted him on the back, the source says.

When a crowd began gathering, Pitt, Doug and the kids got in an elevator to leave. As the doors closed, one onlooker yelled out, "I love Jennifer Aniston!"

Although Pitt didn't look amused, his brother Doug laughed out loud, an eyewitness says.

Their afternoon out came one day after Pitt was photographed greeting Angelina Jolie with their two daughters, Shiloh, 3, and Zahara, 5. The clan has been braving the 30-degree temperatures in NYC as Jolie finishes several re-shoots of her action flick Salt.
[From Us Weekly]
I've always liked Brad's relationship to his brother Doug. They seem genuinely tight, and it's cool that Doug and at least part of his family are in New York to spend time with Brad, Angelina and the clan. Oh, and I love the boys' style. Maddox especially looks so hardcore. Take note, Taylor Momsen.
Brad Pitt takes Maddox and Pax to 'Dave & Busters' arcade with his brother Doug and nephew, in the times square section of New York City. Credit: INF and Fame.