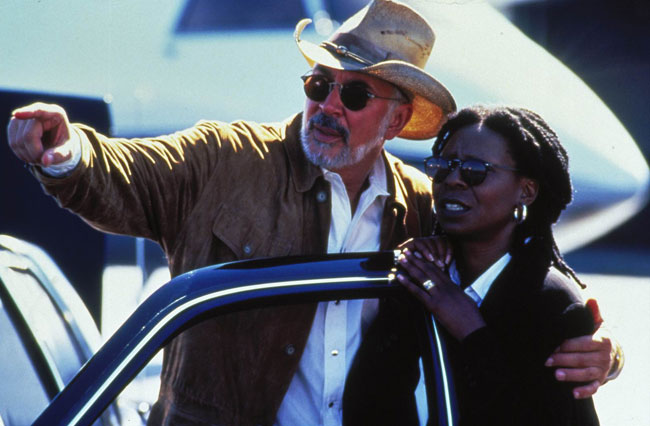 I found this story interesting because it's news to me that Whoopi Goldberg, 54, had a long relationship with actor Frank Langella, 72. According to Wikipedia, they met while filming a basketball movie together called Eddie in 1996 and were together for four years. Before that Whoopi dated Ted Danson and most of us know how that turned out.
Now Frank Langella has been stepping out with Whoopi's boss on The View, self-righteous interview queen Barbara Walters. Whoopi is said to be hurt by this and to be avoiding Walters on set. This news is in the National Enquirer and they've had a lot of inside information from The View so this sounds likely:
Barbara Walters is in the thick of a nasty off-camera fight with her "View" co-host Whoopi Goldberg over Barbara's recent dates with the Whoopster's former beau Frank Langella, say sources.

"It's like the Big Chill between them lately," a "View" insider told The Enquirer.

"Whoopi still has feelings for Frank and doesn't think it's cool of Barbara to take up with her former lover. It's created an awkward situation for them and others around the studio.

"In Whoopi's eyes, Frank's just not any other guy. He was her man, and they lived together for years…"

Whoopi, 52, who has been married three times, has kept her cool on air. "But it's a different story when the show wraps," revealed the insider. "She barely speaks to Barbara."
The Enquirer notes that Frank and Barbara, 78, have been seen at two big events together and that they were looking very much together. Barbara told a reporter "it's not a romance" with Frank, though.
After the way this woman acted about dating a married senator I assume she has no scruples when it comes to a co-worker's ex and probably doesn't give a crap about Whoopi's feelings. In her biography she chronicled her multiple affairs and admitted two-timing her boyfriends. Barbara is an entitled piece of work. I only wonder what Langella sees in her.