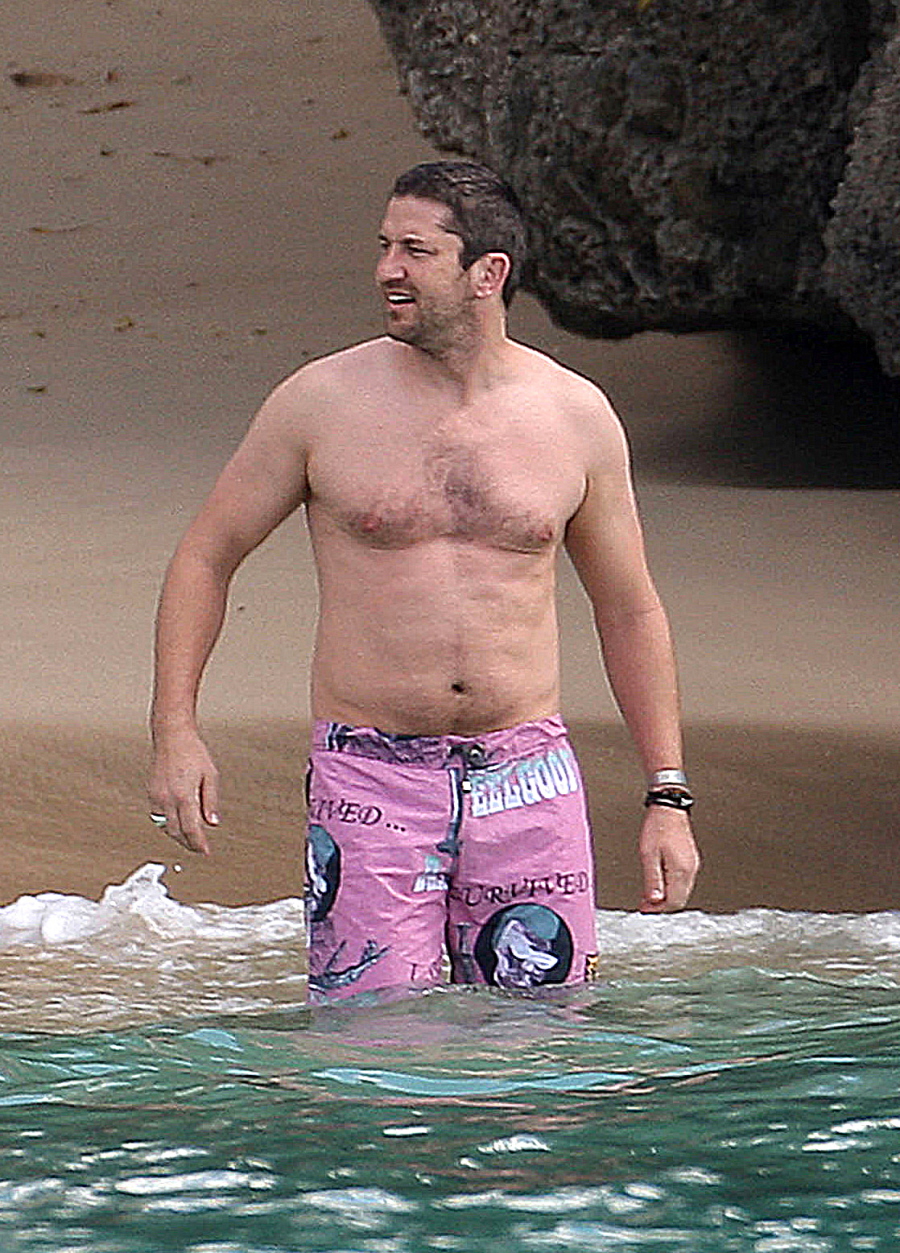 Just shoot me now. I can't believe my future husband, my immortal beloved, my one and only, has let himself go. I mean, sure, I'd still hit it. Over and over. But I would be disappointed, you know? Anyway, these are photos of Gerard Butler over the weekend enjoying some sun and surf in Barbados. I swear, in some of these photos Gerard looks like Jack Nicholson on a bad day. Why oh why does Gerard look like this? He has moobs. And a really big gut. Well… at least I know my love likes to eat.
Only three years ago he was the hunky Spartan whose rippling torso caused an excitable frenzy among millions of women. But Gerard Butler appears to have succumbed to the calorific excesses of the Christmas period and alarmingly piled on the pounds.

Butler, 40, was snapped on the beach in Barbados yesterday enjoying a warm and sunny start to the New Year after spending the Christmas period skiing in Aspen and a cold New Year's Eve in New York. But long gone is the taut and toned abdomen he showed off with pride in the film 300, and in its place is a flabby big belly that hung over his swimming shorts.

In a pair of loud pink patterned shorts, he wandered down to the ocean's edge with a female friend for a dip and there was no denying the paunch that hung over the top of his trunks.

It was certainly a far cry from his role as muscular Spartan King Leonidas in 300, the film adaptation of the graphic novel, in which Gerard's Leonidas go to war against the Persians. But the only battle Gerard will soon have on his hands will be one with the treadmill.

The actor will surely be ordered to get back in shape ahead of international promotional work for his upcoming films. However, for now he's letting it all hang out – quite literally – on the Caribbean island with some friends, as he spent his first day of his holiday relaxing on the beach.

But he seemed a little embarrassed to be caught by the paparazzi as he made his way back to his resort and rubbed himself dry.

Gerard will be making the most of his island break before he gears himself up for work again, with the release of his new film The Bounty Hunter, which is released on March 19th and also stars Jennifer Aniston.

The pair, who were romantically linked while shooting the film, play a former married couple who are reunited after Gerard's bounty hunter character learns that his next target is his journalist ex-wife, played by Aniston.

His last film was Law Abiding Citizen, which came out in October and told the story of a man who seeks revenge on the men who killed his family and the criminal justice system.

Last month, Gerard was nominated alongside Susan Boyle, Andy Murray, Chris Hoy and Gordon Brown as a contender for the Scot of the Year crown which will be announced on Burn's Night on January 25.
[From The Daily Mail]
See, I can tease Gerard about his gut because I love him. But when I hear other people making fun of his appearance, I feel the need to defend him. Sure, he's out of shape. But it's not the end of the world. He's still lovely, right? Or he will be when he stops sucking down pasta and chocolate and actually steps inside a gym for a few days. Sigh… I still love him.
Gerard Butler in Barbados on January 3, 2010. Credit: INF/BIGPICTURESPHOTO.COM. Additional promotional photo of Gerard back in his '300' days courtesy of WENN.