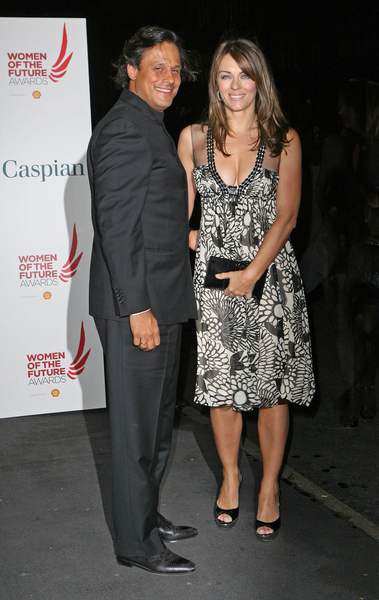 Liz Hurley is a stingy ol' lass. I could have used miser, or scrooge, or cheapskate, but screw up your face a little and say stingy. Feels good, doesn't it? After marrying last March at Sudeley Castle, rather than giving the standard donation of £1,000, Liz and hubby Arun Nayer promised the church a new set of kneelers. For those of you not in the Catholic way, they're cushions for, er, kneeling on when praying.
The church is still waiting on their dozen cushions.
Last October when news of the kneeler gift was first revealed a spokeswoman for Liz Hurley said it was hoped the dozen kneelers would be ready in time for Christmas services.

But Sue Williams, church treasurer, said today "We still haven't received any kneelers as yet.

"They will go straight to the castle so we are basically waiting with bated breath for Lady Ashcombe, the castle owner, to inform us when they have arrived.

"We've had no direct contact with Liz or her representatives.

"The issue of the kneelers was discussed at a meeting last week. I suppose they will be arriving soon, but we've had no word."
Sue Williams also adds that she was 'disgusted' to hear that the kneelers would be donated, instead of the much-needed cash. Like most churches the running costs are raised from donations. She also expected the celebrity couple to donate more, in view of their wealth.
Expecting a celebrity to donate more than a non-celeb is a little unfair, but I can see Ms Williams' point. Liz was wed in a Versace dress, she sold her wedding photos to Hello magazine, and the whole affair was said to cost about £2 million.
Then the couple headed to Mumbai for a six day marathon of celebrating, which included a traditional 'Haldi' wedding ceremony, black tie dinner and a cricket match between the bride and groom's family. Which actually sounds a lot more fun than the Sudeley Castle spectacular.
So in light of this extravagance, I think it is reasonable for the church to demand a donation. Unfortunately, I suspect the issue is that the expectation of a cash donation wasn't made clear to the couple.
Next time, send an invoice.
Picture note by Celebitchy: Liz Hurley and Arun Nayer are shown at the Women of The Future Awards on 11/8/07, thanks to PRPhotos.