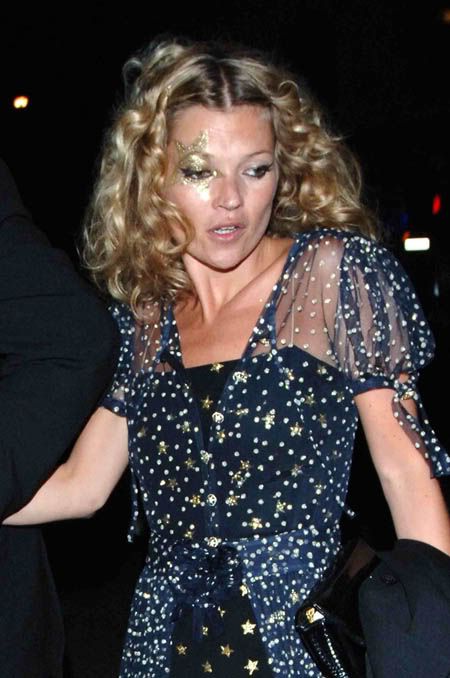 One day, in the very far off future, I will turn 34, and I'm wondering if following in Kate Moss' footsteps for my party will be a good idea. Since she is such an achiever (I actually mean this) she is celebrating her birthday for 34 hours. One hour for every year of her life, starting January 16th at 2pm, and continuing until midnight the next evening. Who knew oldies could party for so long? Who knew a birthday could extend beyond 24 hours?
Naturally, you can't expect the glamorous amongst us to just go to the local pub and rack up a bar tab. Instead Kate will be keeping her guests amused with five different excursions.
1. The supermodel will ease herself into party mode in a £2,500-a-night suite at the Dorchester hotel in Mayfair at 2pm, where she will be joined her closest female friends – Davinia Taylor, Fran Cutler, Meg Matthew, Kelly Osbourne and Kate's daughter Lily Grace. They will pick over a Chinese meal – albeit a rather up-market one – at the hotel's China Tang, owned by her friend David Tang.

2. Kate and her posse then plan to drop off at the house of Serena Rees, the founder of Agent Provocateur who is a good friend and also hosted an afterparty on her 30th birthday after they famously went off the rails at Claridges.

3. The group then hope to pop into their local in north London for a few drinks.

4. Her best friend Davinia Taylor's house is also on the list

5. Lastly, the stragglers are planning to have a house-warming at Kate's grand new home in St John's Wood, which painters and decorators have spent the past four days frantically doing-up.
I wish I was invited to this. Although I can't help but wonder if the party is being held at homes because of planned drug taking. Or after having noise prevention officers come to Claridges Hotel she's not allowed to go back.
As a short scrawny person I've always followed Kate Moss' career. She started modeling at 14 after being discovered at JFK airport. She was then used in a series of advertisements for Calvin Klien fragrance, where she was nude and became the signature look for 'heroin chic'. In 2006 she started her own fashion range for TopShop in the UK, which is also sold overseas. She has often provided vocals for songs, and is also a supporter of several charities for cancer and children. She has a seven-year-old daughter Lila.
Kate managed to stage a comeback after her 'Cocaine Kate' scandal.
Kate also fulfills the model's first duty, to date photographers and rock stars. Happy Birthday Kate.
Picture note by Celebitchy: Kate Moss is shown outside her birthday party last night at Punk Nightclub, thanks to WENN.