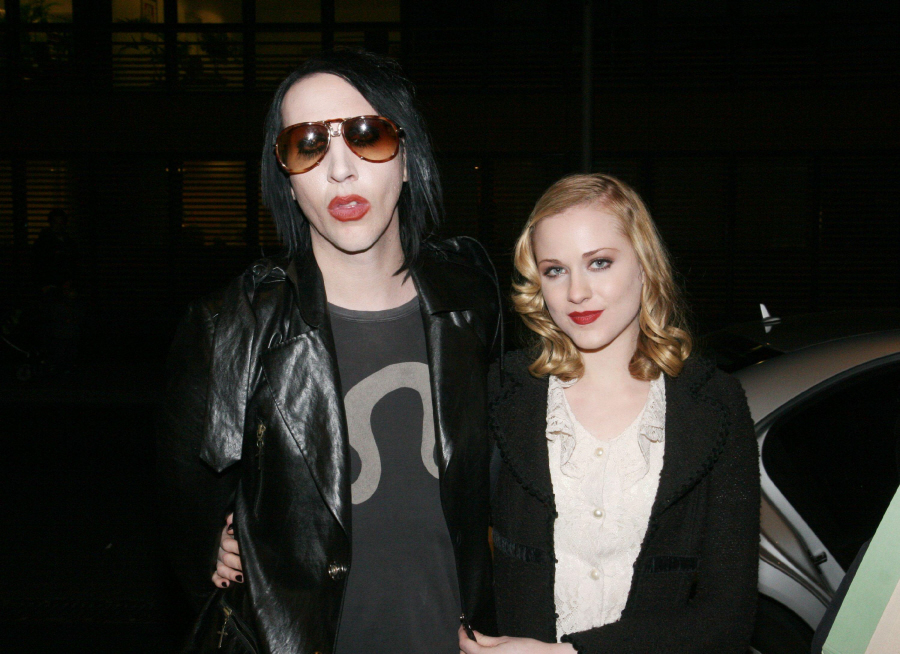 One month ago, Marilyn Manson announced in an interview that he and Evan Rachel Wood were back together. Evan and Marilyn have a tortured (and torturing) history together and apart (you can go here for a summary), and most people's reactions when learning of their reunion was along the lines of "Dear God, that poor girl… what's wrong with her? What's wrong with him? Mother of…" I'm just paraphrasing. The most recent guy that ERW had been connected to was Alexander Skarsgard, so I have no idea what is going through her mind at this point.
Goth rocker Marilyn Manson, 41 today, has proposed to his actress girlfriend Evan Rachel Wood.

The singer – the ex of burlesque pin-up Dita Von Teese – proposed on stage in Paris on Monday night.

A delighted Evan, 22, said: "Yes!" Imagine what a show the wedding will be…
[From The Mirror]
And the transformation of ERW to Dita Von Teese will be complete once ERW wears a purple Vivienne Westwood as a wedding dress, and then divorces Marilyn only months later. Seriously. It will be like that Alfred Hitchcock movie Rebecca, and ERW will walk around, starring at haunting photos and paintings of Dita. Also, isn't proposing on stage totally cheesy? I would think Marilyn would be too "cool" for something like that.
Evan Rachel Wood and Marilyn Manson in Germany on April 22, 2007. Credit: WENN.