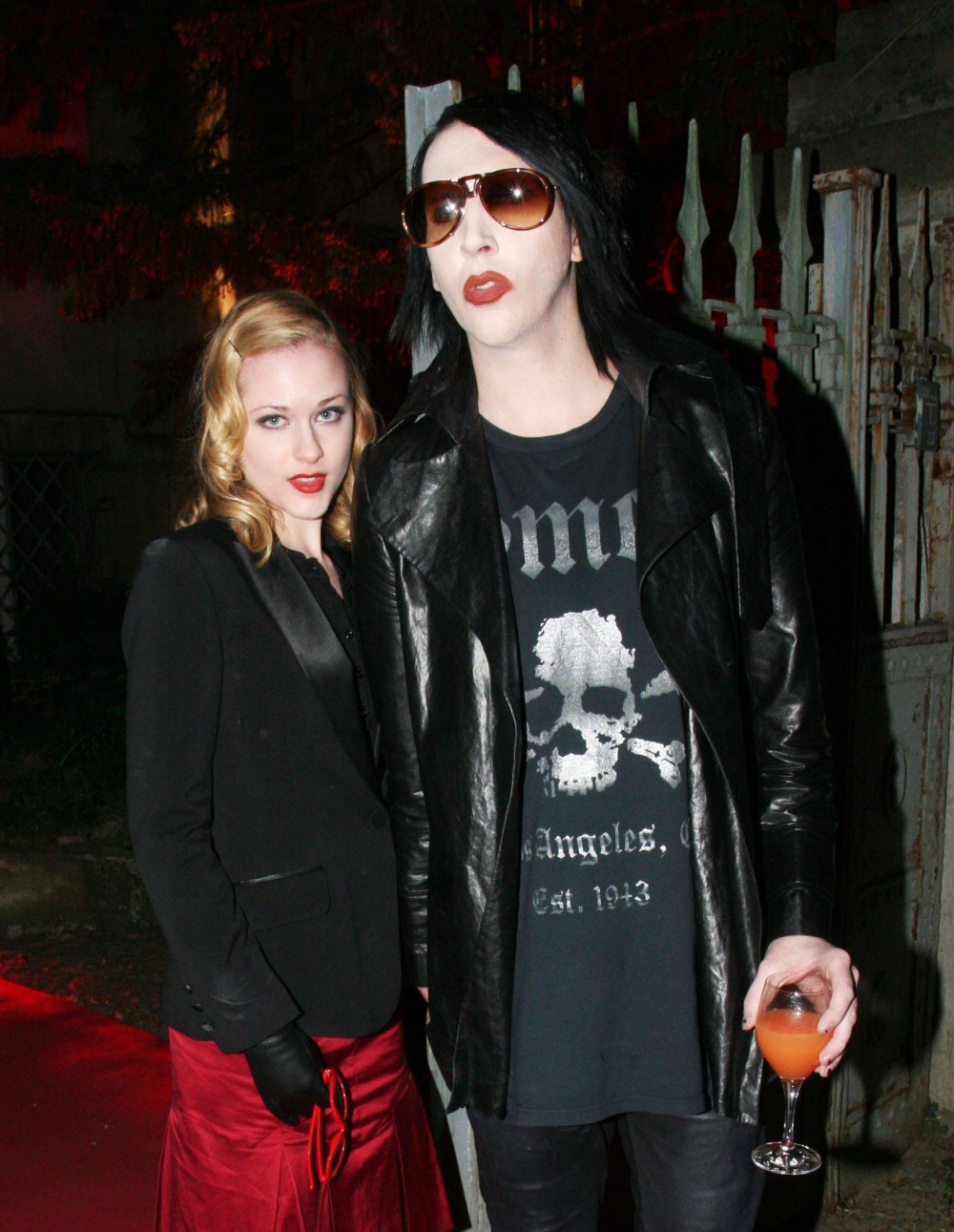 Good Lord, is Evan Rachel Wood deranged? Coming straight from the horse's (ass) mouth, Marilyn Manson confirms that he and ERW are back together. For a brief recap, back in late 2006/early 2007, ERW may have broken up Manson's marriage to Dita Von Teese, or maybe he just left Dita and started up with ERW very quickly – the timeline is sketchy. Anyway, they began dating, and it was wrong.
ERW, then 18 years old, tried to become a little Dita clone and she and Manson had a famously dysfunctional and gross relationship. Then, in late 2008, ERW dumped him. Then she took him back a few months later. Then they broke up again, and Manson said he "made the mistake of trying to, desperately, grasp on and save that and own it. And every time I called her that day — I called 158 times — I took a razorblade and I cut myself on my face or on my hands…I have fantasies every day about smashing her skull in with a sledgehammer." After that, ERW dated other guys, like Shane West and Alexander Skarsgard. For the love of God, she went from Skarsgard back to Manson! GAH!
Marilyn Manson has reunited with actress Evan Rachel Wood (The Wrestler, Across The Universe), after splitting very acrimoniously with her last year.

Manson revealed he and Wood had reunited in an interview with Metal Hammer magazine, when he was asked how he keeps going despite continually being in dark places in his life.

"I think I'm not afraid to be me," he told the magazine. "Sometimes [it] happens when you get to this point in your career, and there are so many things that have happened and influences that you've had, besides the influences of the things that have inspired you."

"Sometimes you feel awkward being what you're best at, you feel like you have to be something new. But I think that a lot of people will agree that me being me at my best [is what] I need to be. I think that really paid off because I'm back with Evan, that's kind of breaking news, you can be the first one to say that."

Manson also says he and his band of the same name are free from their contract with Interscope after having released their seventh studio album, The High End Of Low, in May.

"We've just been released from our record contract with Interscope so I think a lot of the creative control on which my hands were tied on a lot of choices — the music videos — things like that," he said, when asked what was new in his life. "And the first example is the newest video, they clearly wouldn't have allowed me to make that video."

Manson was referring to the recently released clip for "Running To The Edge Of The World," in which he murders a woman. When the video came out last month, many media outlets pointed out the woman resembled Wood.

Manson says being free of his contract also liberalizes how he'll record in the future.

"We started writing new songs on the road — a bit like [David Bowie's] Aladdin Sane — I think people can expect a new record a lot sooner than we [expected]."
[From Chart Attack]
Jesus. I get a headache just reading his words. I don't know how I'd be able to function if I actually had to spend some time with him, much less… heave… have sex with him. What the hell does Manson have on her? Does he have some kind of hold? Is sex that great with him? Why isn't ERW able to cut her losses and get the hell away from him? Granted, I'm not her biggest fan, but even I feel for the girl when she's with Manson.
Older photos of ERW and MM on April 20 and 22, 2007, in Germany. Credit: WENN