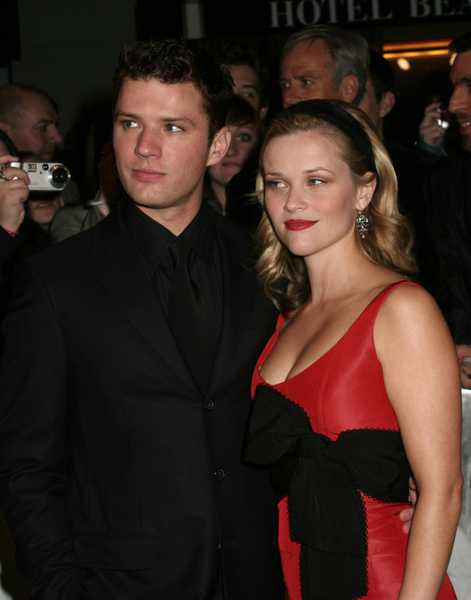 Reese and Ryan at the Walk The Line premiere on 11/13/05
Reese Witherspoon and Ryan Phillippe are fighting over Jake Gyllenhaal. And who wouldn't? Damn, he is hot. Waaay hotter than Ryan "I'm so pretty" Phillippe. Except they're actually fighting over the kids, and how much influence Jake has over them.
According to a family friend, the kids love Jake so much that when it's time for Reese to hand them over to Ryan , little Deacon can't stop talking about Jake. "It's Jake did this, Jake brought mommy flowers and coffee, Jake says we should recycle," the friend tells OK!

It's reportedly taking it's toll on Ryan. "Ryan called Reese and suggested she stop letting him (Jake) spend so much time with the kids," the insider tells OK! "He was pretty irate on the phone. Reese barely let him finish the sentence before she shot back that what she does with her personal life is her business."
Unfortunately, this is what happens when you get divorced. Your kids become part of another person's life, if your former partner takes up with someone new. I'm pretty sure that Reese isn't exactly loving the role Abbie Cornish has in Ava, 8, and Deacon's, 3, lives, but you have to accept that you don't have any say over your former partner's girlfriend. Which is shattering, and takes a long time to get used to.
Ava and Deacon spend equal time with both parents and their new partners under the custody agreement arranged while Reese and Ryan were divorcing.
Reese this week had a blood blister on her eye – ew, gross, poor Reese – that held up shooting on the movie Four Christmases. Staying true to her type A personality, she was more concerned with disrupting a day's work than with her painful eye, and "kept apologizing to everyone from producers to the lighting guys." Which is kind of sweet, except that they were probably actually happy to get a half day off work. They were probably just trying to hide it until she left.
Picture note by Celebitchy: The header image is obviously an old one of Reese and Ryan. It was taken at the premiere of Walk The Line on 11/13/05, thanks to PRPhotos.