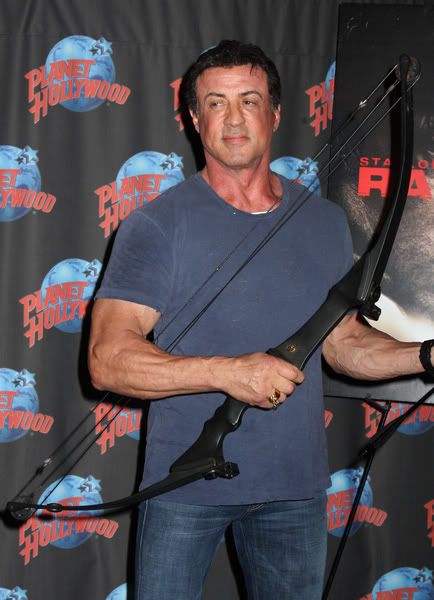 Sylvester Stallone has anther lame Rambo/Rocky/whatever movie coming out, and to try and stop it sinking down with Rocky Balboa, he's dropping the names of some people who can sell box office tickets. Like Matt Damon.
He said: "I think that some young actors will look at me as this archaic, prehistoric creature because now we've become much more scientific, less personal.

"Most of my peers were very physical. Arnold Schwarzenegger and Bruce Willis – they were just more hands-on. I think that a lot more actors today are hands-off and they're more intellectual."

Stallone believes Rambo would wipe the floor with Matt Damon's Bourne Ultimatum character Jason Bourne in a fight.

He joked: "Rambo would murder Jason Bourne. I'm kidding. Maybe the one in The Transporter though – Jason Statham."

Hopefully this challenge won't lead to a Rambo vs Bourne flick (has anyone seen Alien vs Predator II? I didn't think so). While Rambo might be tougher, I think he'd have to catch Bourne first. We know which one is more intelligent!
The other things these characters have over the 80′s heroes is they have speaking roles. Does Rambo say anything during the whole first movie?
Checking out the new trailer on YouTube, it looks appropriately violent and features the obligatory hysterical female character. Don't watch it if you don't like blood, he's ripping people's throats out and all sorts of boy gore.
Yeah, I'll be sticking to Bourne. Hubby will go see it. Probably twice.
Sly doesn't address the Janice Dickinson allegations of him 'juicing' her with steroids, but I think the interview took place before she said it. Rambo hits cinemas January 25.
Picture note by Celebitchy: Sylvester Stallone is shown donating "Rambo" memorabilia to Planet Hollywood in New York on 1/17/08. Matt Damon is shown at the Toronto International Film Festival on 9/9/07, thanks to PRPhotos.