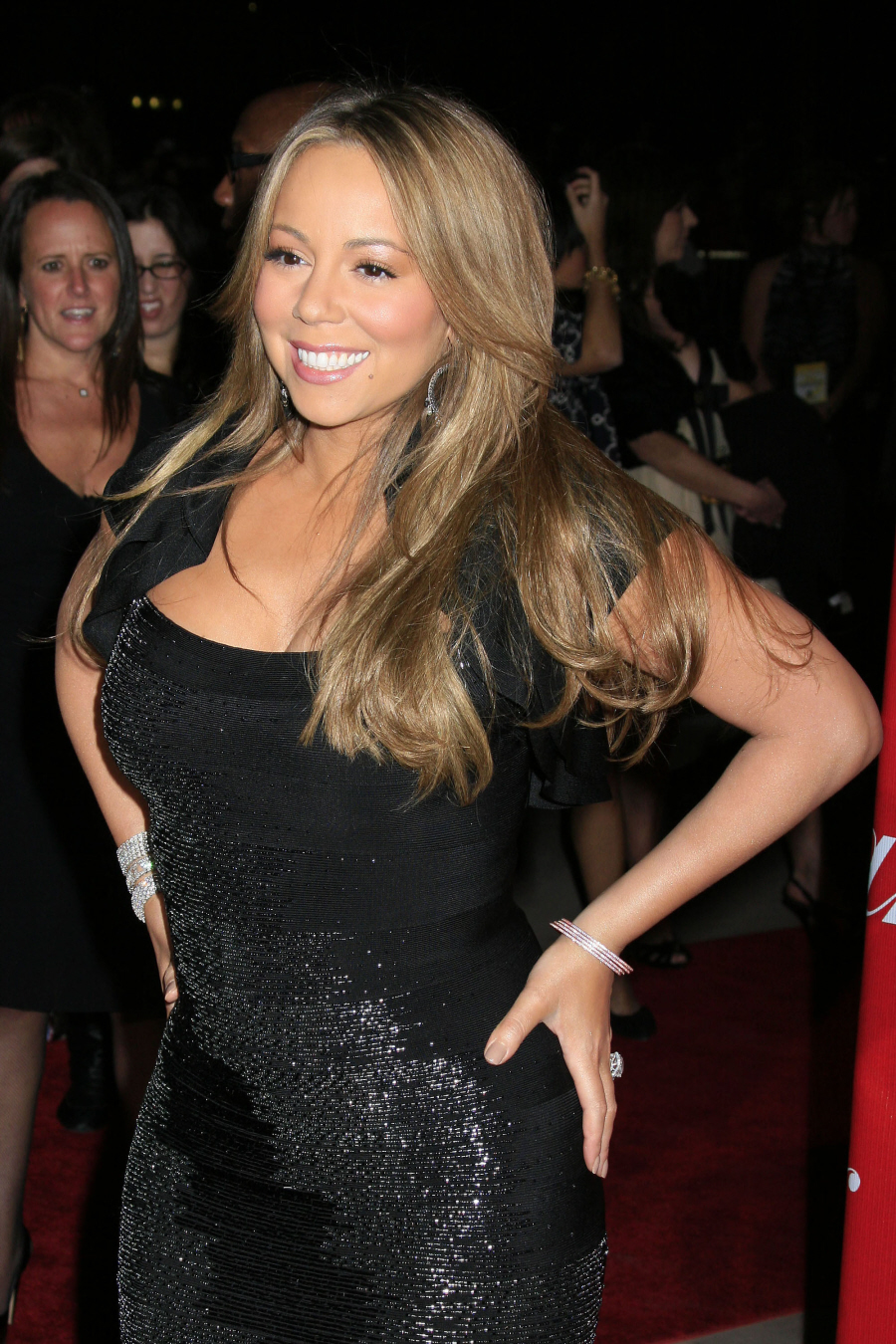 Two nights ago, Mariah Carey got her first big acting award at the Palm Springs International Film Festival. While most of us thought "Mariah? Seriously? What kind of insanely tight butterfly dress will she be wearing?" we missed out on the hilarity. You see, Mariah was totally wasted when she went up to collect her award. She was so sh-tfaced she could barely finish a sentence, she began clapping for no reason, and she was basically a big mess. As I mentioned yesterday, I'll give Mariah Carey credit for being a happy, funny drunk. But I do not give her credit for trying to pretend that alcohol-socked speech was the result of "splashes of champagne." Oh, yes. Because that's all it takes for butterflies.
Mariah is blaming it on the alcohol.

At Wednesday's People's Choice Awards, the diva, 45, was asked about her sloshy speech Tuesday at the Palm Springs International Film Festival awards gala.

"I don't even know what it was," she told reporters. "I heard clapping. You know, Lee [Michaels, Precious director] and I hadn't seen each other in a long time, and he started right in with all these inside jokes, and I was like, OK.

"We were celebrating and having little splashes, and I hadn't eaten, and that's what it was. We were celebrating the movie and all the exciting stuff going on. There's a time for celebration and a time for not – but really technically, it's a party atmosphere. We had splashes of champagne. I love Lee, but he's a bad influence."

Carey was the butt of jokes by Sean Penn and Jason Reitman, director of Up In the Air.

"I think it feels just as good as Mariah Carey feels right now," Reitman joked onstage while accepting an award at the show. "I should really leave now. I don't think it gets better than that."
[From Us Weekly]
I would respect Mariah more if just came out and said, "I was drunk, and it was fun, stop being such bitches." But no! It has to be someone's fault, as if getting drunk at an awards show is some kind of crime: "I love Lee, but he's a bad influence." Or am I wrong? Is Mimi such a lightweight that she only needs to drink a few splashes of champagne and her butterfly is praying to porcelain gods?
By the way, here's the full drunken speech. Mariah is ridiculous:
Mariah Carey at the People's Choice Awards on January 6, 2010, and at the Palm Springs Film Festival on January 4, 2010. Credit: WENN.