Since announcing her split with her partner of 23 years, Tim Robbins, Susan Sarandon's possible love connections have been the subject of some quiet but consistent gossip. Immediately following the split, the most likely candidate for "Susan's boy-toy" was named as her business partner, a 31-year-old hipster named Jonathan Bricklin. Sarandon is one of the investors in the ping-pong club Spin, which Bricklin runs with two other partners. Both Sarandon and Bricklin denied a romance, and after a week or so, Sarandon was seen out and about with yet another young dude. Meanwhile, MSat covered the possibility that it wasn't another man that split up Tim and Susan, but politics.
Now People Magazine, that bastion of publicist-driven spin, is sort of calling Susan out. They're running a story about how Susan and Bricklin have been spotted together a few times, and that Susan is "enjoying the single life." Code for: hittin' it.
Two weeks after announcing her split from longtime partner Tim Robbins, Susan Sarandon is not slowing down: In fact, the 63-year-old single star has been spotted out at several New York City nightspots.

One of Sarandon's favorite hotspots is SPiN, the ping-pong club where she's an investor. On Tuesday night, she strolled into the place just before 8:00 p.m., wearing a slouchy black newsboy cap and sneakers to chat with one of her partners at the lounge, Jonathan Bricklin, and a few friends. Rumors have swirled of a romance between Sarandon and 32-year-old Bricklin, but reps for both have denied it. Still, Sarandon seems to be enjoying the single life.

Here's how she's surviving the break-up!

Hanging out with Younger Guys
Sarandon spends a lot of evenings hanging out at her club SPiN with the young crowd that frequents the place – including Bricklin. On Tuesday, she popped in for just 20 minutes before she was out the door – perhaps to check out another late night hotspot.

Staying Out Late
On Dec. 28, Sarandon was spotted at Manhattan's Creperie, a tiny crepe joint in the West Village. The same night, she and Bricklin, checked out Mermaid Oyster Bar, a casual seafood restaurant just down the street. The kitchen was closed – so they just had drinks. "He drank two Jamesons and she had tequila," says a source. They left at around 1:30 am.

Flirting with Dave Letterman
On Dec. 22 – one day before announcing her split from Robbins – Sarandon appeared on The Late Show with Dave Letterman to promote her upcoming role in The Lovely Bones. She chatted about her two Pomeranians and learning to pole dance with her daughter, Eva, who learned the skill for a guest spot on Californication – and Sarandon showed off a new tattoo around her wrist.

With her late night prowling, maybe 63 really is the new 30.
[From People]
63 is the new 30? Um, no. I'll buy that Susan is still relevant and sexy and cool, but I will not buy that she's the representative of "63 is the new 30." Why can't "63 be incredible on it's own without comparing it to another age"? That being said, I do think Susan and this Jonathan Bricklin kid are hittin' it, and I think People Magazine thinks so too. I know he beeps on some people's gaydars, but to me he just seems slightly hipster-effete. Probably right up Susan's alley. Screen-cap of Bricklin, below: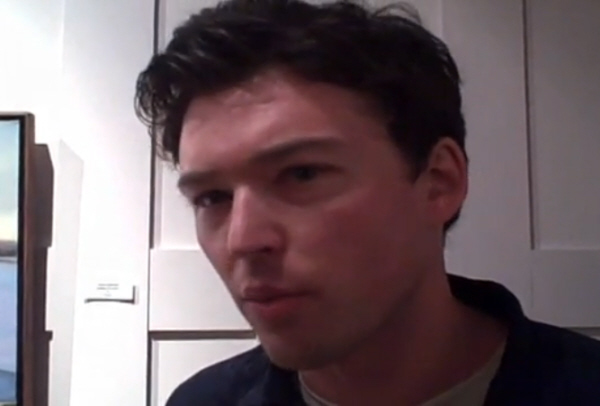 Susan Sarandon at the Sydney premiere of 'The Lovely Bones' on December 10, 2009. Credit: WENN. Screen-cap of Bricklin.