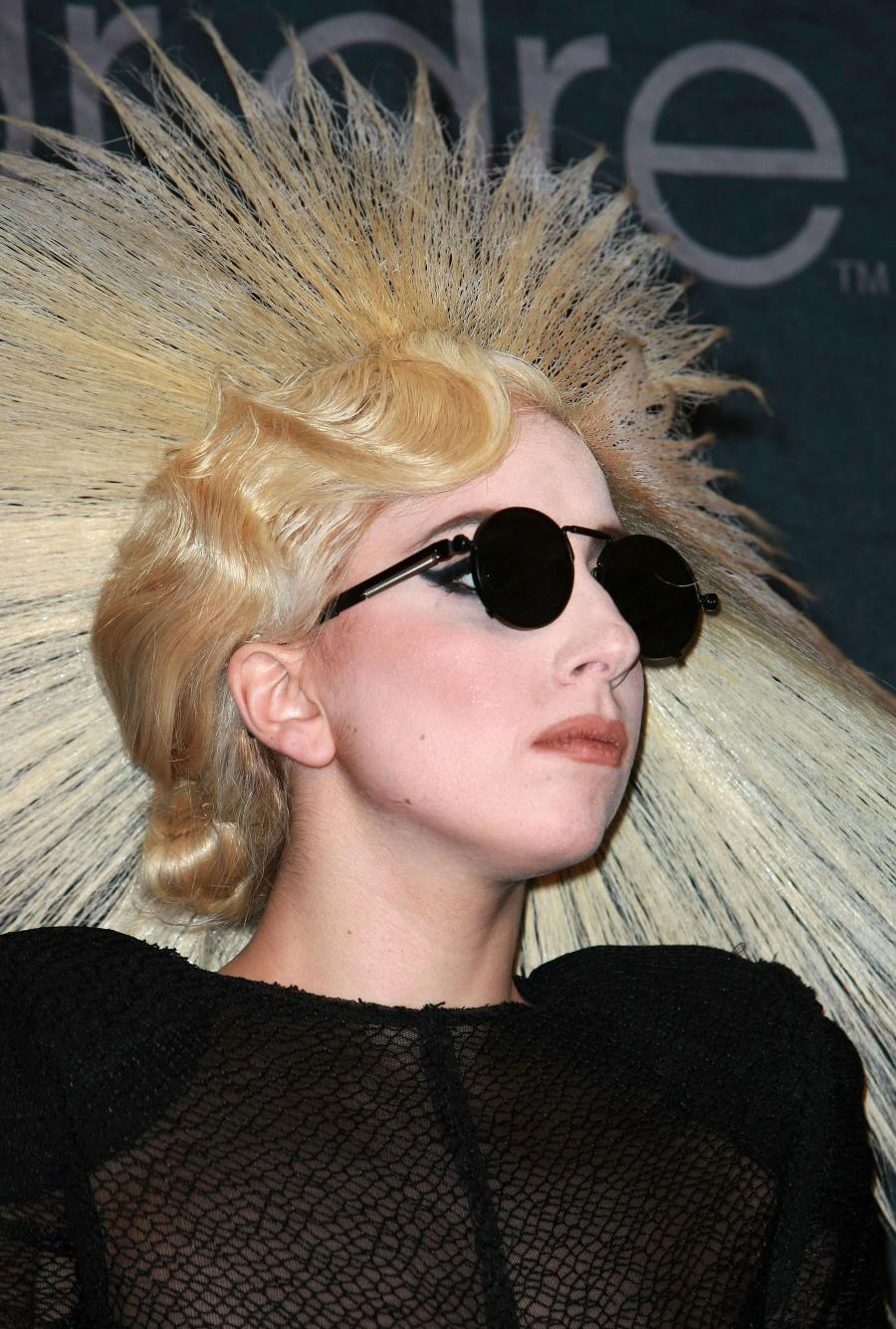 Did you know that Lady Gaga was just named the new creative director for Polaroid? She even got business cards for the gig, which is kind of amazing – it's not just an endorsement deal, Gaga may have to attend some business meetings and discuss future ad campaigns and look at spreadsheets and stuff. What's next? Jennifer Lopez being named to the board of GE?
Anyway, these are new photos of Gaga at the Las Vegas Consumer Electronics Show, where she not only unveiled a new look, but she came out as the new representative of Polaroid. Not only will Gaga be the Creative Director, she's got another title: "inventor of specialty products". God only knows. What do you think of her new look? It reminds me of those strange and wacky hats that upper-crust British women wear. Kind of like the headpiece Camilla Parker Bowles wore for her wedding to the Prince of Wales. It also reminds me of religious iconography – like Gaga is the Sun Queen or the Virgin Mary or something. Whatever.
Lady GaGa has grown into a style icon over the last twelve months – and not without good reason.

The singer's diverse and outlandish wardrobe, which has included fishnets, stockings and PVC catsuits, has regularly wowed onlookers.

But 23-year-old outdid even herself on Thursday when she arrived at an event in Las Vegas wearing a hat made out of her own hair.

The Bad Romance singer's hair piece, which was designed to look like a straw hat, ensured she was the centre of the attention at the annual Consumer Electronics Show.
The star finished off her eye-catching outfit with in a sheer black mini-dress.

Lady GaGa attended the event to discuss her role as the new creative director for a speciality line of products for Polaroid.

"Well, I'm definitely a Polaroid camera girl," she said.

"I really believe in the lifestyle and injecting the things that I love into [this]. For me, what I'm really excited about is bringing back the artistry and the nature of Polaroid."
[From Entertainmentwise]
WENN notes that Gaga also introduced Monster Cable's "Headphones by Gaga" at the Monster booth at the trade show… so expect your gay best friend to want "Headphones by Gaga" for his birthday, just FYI. I'm also going to give Gaga some credit – when she signs on to do something, she puts all of her effort into it. That's probably what makes her such a good spokesperson, and why she got the Polaroid gig.
Lady Gaga in Vegas on January 7, 2010, credit: WENN. Additional photo of Gaga and her business card, from Gaga's Twitter.