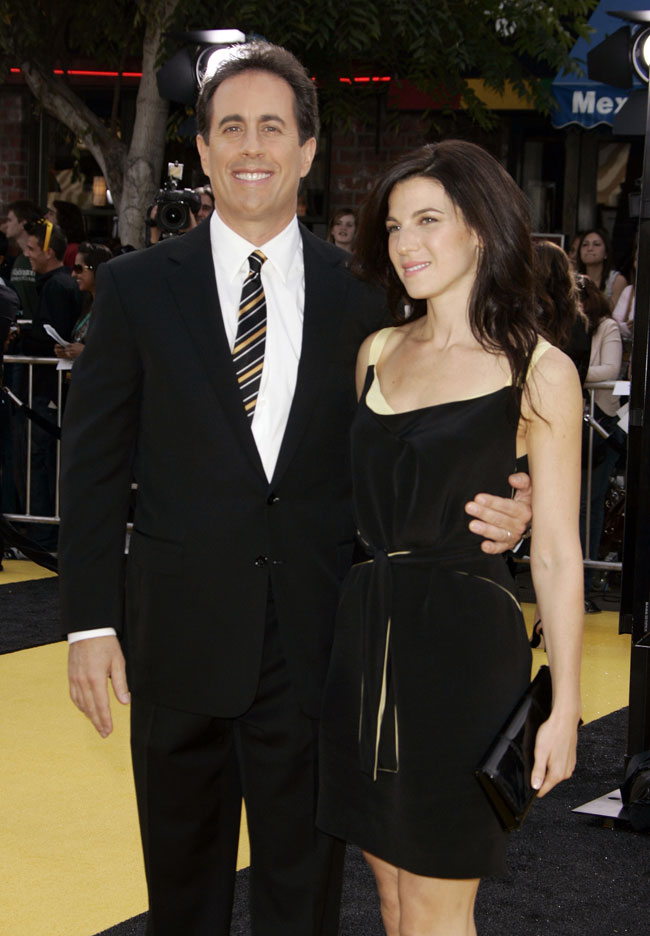 Annoying comedian and former sitcom star Jerry Seinfeld will be back on the airwaves inflicting his unique brand of mean humor on the public. Only this time he'll be trying to impart marriage and relationship advice while getting his trite digs in. The 55 year-old comedian will host a show called "Marriage Ref" in which he and a panel of celebrities meet with troubled couples and provide advice for their problems. It sounds fascinating. The LA Times has more, including the detail that the concept was allegedly conceived by Seinfeld's wife. I wonder whose original idea she jacked for that one.
Jerry Seinfeld is giving the credit for his return to network television to his wife, Jessica.

The comedian said his wife came up with the idea for "The Marriage Ref," a comedic look at the battles between married couples. The show will premiere on NBC Feb. 28 after the closing ceremonies of the Winter Olympics.

The concept came up during an argument Seinfeld and his wife were having while out at dinner with a friend. When the friend became uncomfortable and tried to leave, the couple persuaded the friend to listen to both sides of the dispute and decide who was right. They agreed to abide by the decision.

"Sports simplicity is what's missing in marriage," Seinfeld said.

Each show will feature three to five couples who will air their disagreement during a filmed segment at their home. A panel of celebrities in a studio will then debate the issues before handing the matter over to comedian Tom Papa — the Marriage Ref — who will make the final judgment.

Panelists already signed to appear include Tina Fey, Charles Barkley, Alec Baldwin and Larry David. Seinfeld is expected to appear during the premiere and a few other episodes.

When asked why his show did not have a panel of experts to guide the couples, Seinfeld quipped, "Experts are helpful. That's not our thing."
[From LA Times via The OK Magazine]
Please let this fail please let this fail. I can't stand this couple ever since Jessica stole an entire cookbook andJerry defamed the author, calling her a "wacko" and comparing her to a serial killer.
The London Telegraph reports that some of the husband/wife scenarios "include a husband who enrages his wife by parking a motorcycle in their living room, and a couple who argue about whether to have their dead dog stuffed." Whatever happened to regular couple arguments over the kids, money, or housework?
A lot of my friends loved Seinfeld but I never got the appeal of the show. I found it formulaic and thought the characters were too narcissistic. We'll see how this goofy show does on TV. I'm keeping my fingers crossed that it tanks. Jerry Seinfeld can go drive his vintage Porsches and continue making lame jokes about his privileged life.
Jerry and Jessica Seinfeld are shown at the Bee Movie premiere on 10/27/08. I hated that movie and I can tolerate all kinds of kid films. Credit: Juan Rico/Fame Pictures