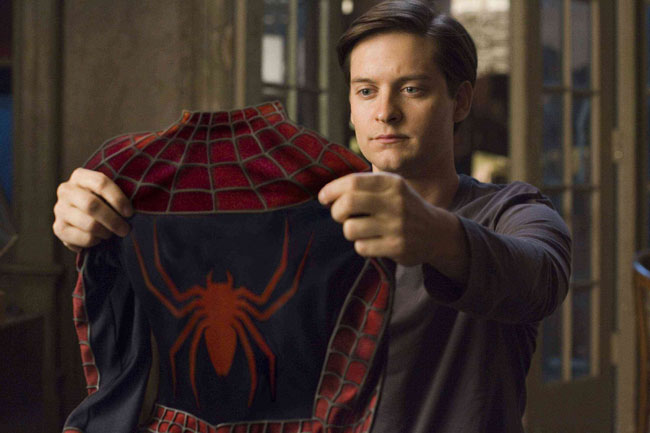 Spiderman 4 was pushing for a potential summer 2011 release when director Sam Rami dropped out due to creative differences and time constraints. Star Tobey Maguire soon followed, and the studio is going to move forward with the tried and true "reboot" concept and an entirely new cast. Why pay huge star salaries when all you need is some attractive, relatively unknown faces and a concept that appeals to 14 year-old boys? It makes no difference if the film is decent or not as long as stuff gets blown up. Just look at the Transformers movies.
A few days after script issues pushed it off the May 2011 calendar, Columbia Pictures and Marvel Studios announced today that Spider-Man 4 ain't gonna happen at all, and that the franchise will eventually reboot featuring Peter Parker as a teenager.

Meaning original principals Tobey Maguire and Kirsten Dunst, as well as Spider-Man 1-3 director Sam Raimi, are out.

"We're very excited about the creative possibilities that come from returning to Peter's roots and we look forward to working once again with Marvel Studios, [producers] Avi Arad and Laura Ziskin on this new beginning," said Sony Pictures cochair Amy Pascal.

"Working on the Spider-Man movies was the experience of a lifetime for me," added Raimi. "While we were looking forward to doing a fourth one together, the studio and Marvel have a unique opportunity to take the franchise in a new direction, and I know they will do a terrific job."

Maguire had told E! News in November that he expected to start shooting his fourth Spidey film in February or March.

There's no official word as to how exactly the project came unspun, but Raimi had reportedly been unsatisfied about the current state of the screenplay by Alvin Sargent, the third writer brought on by Sony to tackle the storyline.

The Spider-Man saga is currently slated to begin again in summer 2012.
[From E! Online]
The good news is that we won't have to see Kirsten Dunst reprise her role as the unlikely love interest. There was news that Anne Hathaway might replace her, but it's doubtful that the studio will go with such a big name. The bad news is that sexy villain James Franco won't be back. He has a lot of films coming out, including Eat, Pray, Love with Julia Roberts so it's not like he's going to fade from view and have to rely on his soap opera career as a backup. Tobey Maguire has three films coming out and a whopping 13 films listed in development. Ten to one he's relieved that he'll no longer have to play Peter Parker. It's a boatload of money, but the guy would surely rather be doing something else.