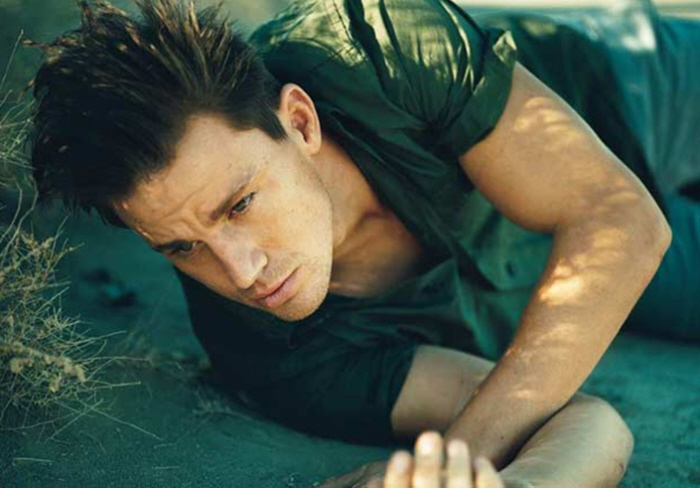 Oh. My. God. Channing Tatum came very close to losing his penis, or part of his penis, or losing function in his penis. This is because of really, really disturbing incident that happened on the set of Tatum's new film The Eagle of the Ninth. Now… I like Channing. I think he seems like a really sweet kid, and he photographs beautifully, as you can see from the Details cover for February (which is where this particular penis story comes from, full Details article here). I swear, I actually winced when I read this story, so just be careful. Don't eat anything while reading this:
"Channing Tatum Is Proud of His Package," declares the February issue of Details. And he should be.

In the issue, the actor, 29, opens up about surviving a painful accident that caused severe burns to his penis. He had been shooting the drama The Eagle of the Ninth last October in the freezing cold Scottish Highlands.

"The only way to keep warm was by pouring a mix of boiling water and river water down your suit," Tatum, 29, tells the magazine. "We were finally done shooting for the day, and one of the crew guys asks if I want to warm up before I go. I'm like, Nah, I'm good. And then I thought, Why not?

"Thing is, he'd forgotten to dilute the kettle water," he continues. "So he poured scalding water down my suit. And I was trying to pull the suit away from my body to somehow get away from the boiling water, and the more I pulled the suit away, the lower the water went. It just went straight down and pretty much burned the skin off the head of my dick."

He was rushed to the nearest hospital — an hour away. On the way, however, the ice pack he was applying to the burn lost its chill.

"I said to the driver, who was ex-special-forces Marines, 'You might have to knock me out, because I don't know if I can take the pain. Just grab something and hit me on the back of my head,'" he recalls.

Morphine eventually did the trick, he says, but it was still embarrassing.

"I had five guys looking at my shriveled, burned penis," he says.

Looking back, he says, "It was the most painful thing I have ever experienced in my life."
Rest assured, "I'm good . . . now," says Tatum, a former stripper. "Now my penis is fantastic! One hundred percent recovered. Put me back in the game, Coach."
[From Us Weekly]
It's totally gross, right? And what kind of jackass crew member says "I'm going to pour scalding hot water on the star of this film"? A jackass who should fired. Can you even imagine if something like this had happened to some big star? There would be hell to pay. It's kind of shocking that this is the first we're hearing of it. Poor Channing. Poor penis. Do you think he needed a skin graft? How would you even begin…? Nevermind, I don't want to know.
By the way, is anyone else getting an Ewan McGregor vibe off these photos?
Images of Channing courtesy of Details online (there are so many photos of him).