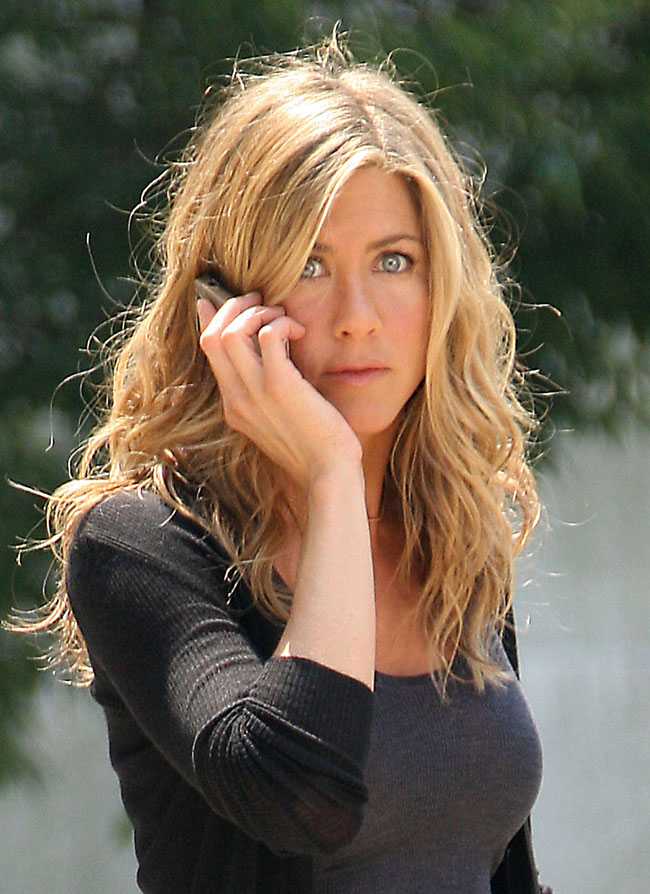 This is not the photo we're talking about here. That is on Radar Online
Jennifer Aniston was photographed talking on the phone while driving in California, which is illegal as of July 1, 2008. She was holding the phone up to her mouth but not her ear, and it looked like she was using the speakerphone. (You can see that photo on Radar Online, we don't have the rights to it.) As obnoxious and illegal as it is, I have to admit that I've occasionally used the speakerphone on my cell phone while driving. Like if someone calls me while I'm driving and I don't have the time to go digging through my purse for the headset I'll just answer the phone and put them on speaker. I know this is wrong and that I am endangering my own lives and other's lives, so feel free to remind me so that I don't do this again.
First lady of California Maria Shriver was similarly photographed talking while driving, but in her case she was busted several times by TMZ. She ultimately got a strict talking-to by her husband, Governor Schwarzenegger, who signed the laws that she was violating.
There's a lot of debate over an announcement by Ford that they plan to offer in-car Wifi in new models next year. The new system will work with the user's USB mobile modem to broadcast the signal throughout the car for everyone to use. That's incredibly convenient and useful for passengers and commuters who are responsible enough to pull over to use laptops, but you know that people are going to abuse it. Still, if someone has a USB modem they can already use it while they're driving.
There's also the issue of texting while driving, which is also illegal in California. With all the other ways we can be distracted while driving, using the cell phone might be seen as less harmful. Still, we shouldn't be fooled. Talking on the phone is just as dangerous, if not more so, than driving drunk. The next time the phone rings when I'm driving I will let it go to voicemail for sure.
Photos are from 8/4/09 and 5/6/09. Credit: Fame Pictures