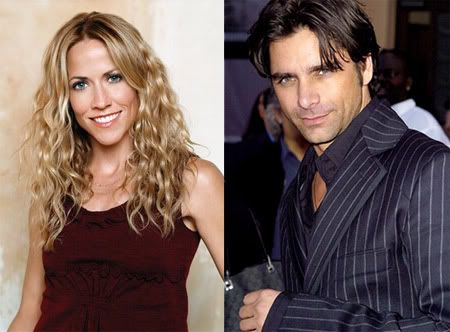 Sheryl Crow is said to be dating John Stamos:
Rocker SHERYL CROW has reportedly found love with FULL HOUSE star JOHN STAMOS. The ALL I WANNA DO singer, who has recovered from breast cancer surgery, broke off her engagement to biker LANCE ARMSTRONG earlier this year (06). A source tells US publication Life + Style a mutual friend set up the celebrity pair. The couple had their first date a few weeks ago in Malibu, California, where they walked around the Malibu Country Mart shopping centre and stopped for a coffee. The source says, "They've been talking a lot and plan to have dinner together soon. "They're really into each other, so it could blossom into something more."
How into each other could they be if they only had one coffee date a few weeks ago? It sound like this whole thing is overblown and we'll believe it when the pictures come out.
Stamos pulled a Wilmer Valderrama on the Howard Stern show this week, although he remained somewhat discreet and probably didn't offend as many of his ex lovers as Valderrama did.
It's doubtful that anything will come of this if they haven't managed to see each other again after a few weeks, but it's too juicy not to report.