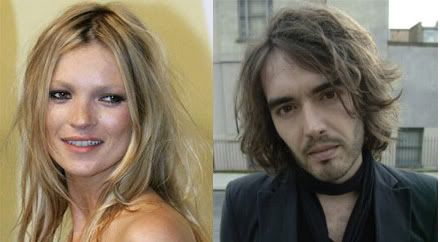 Kate Moss has been spotted out with Russell Brand, a British comic and Big Brother presenter who is also a former drug addict. At least he's sober now:
Who is the mystery man Miss Moss has been spied out with now?
It's MTV/ Big Brother's Big Mouth presenter Russell Brand.
The pair were spotted out in a North London pub before moving onto a nightclub. And thus a rumour was born…
"Kate finds Russell hilarious and he has the sort of rock star looks she's attracted to."
That's not the only thing the pair have in common, however.
Both Kate and Russell have had publicised troubles with drugs – Kate with cocaine and Russell with heroin.
Perhaps they can help keep each other sober?
The rumors about Kate's involvement with Brand are probably true, because she was spotted buying high-end lingerie at Agent Provacateur recently. She's got someone in mind to see her new knickers and it's probably not her on-again off-again boyfriend, Pete Doherty.
Everyone is making fun of Brand for these pictures of him mooning the camera, but that's nothing compared to the stunts Pete Doherty pulls.
Doherty has vowed to get sober to keep her affections, and is headed to a clinic to take drastic measures:
[Pete Doherty] is desperate to prove to his model ex that he can give up the class As.
Pete is heading to a clinic in Burford, Oxfordshire, next week to have a drug — which stops heroin having an effect on him — inserted into his stomach.
The star was devastated to learn yesterday that Kate has found a new man in comic Brand — who is fronting Big Brother's Big Mouth for channel E4.
Doherty most recently squirted a syringe full of blood at an MTV camera and is way overdue for an intervention. Hopefully Kate will stay away, and Pete will realize that he needs sobriety more than any woman.
Here is Kate shopping for lingerie. [via]