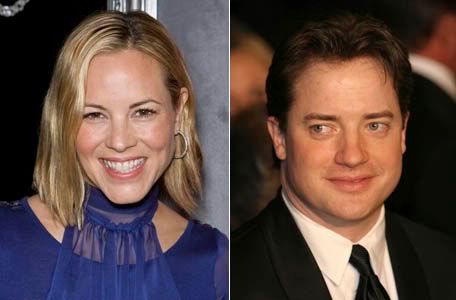 Brendan Fraser's marriage may have fallen victim to the dreaded on-set romance that creates and breaks so many Hollywood relationships. Frasier is said to have become too cozy with his latest Mummy installment co-star, Maria Bello, when the two were filming together in China.
Star Magazine quotes a source as saying "Brendan and Maria would disappear together for hours at a time," and claims that their flirtatious relationship was obvious to all the cast and crew:
Star has learned that the 39-year-old father of three has grown closer to Maria Bello, his costar on The Mummy: Tomb of the Dragon Emperor! "Brendan and Maria became tight because the shoot in China was challenging, and Maria was a friendly face," a source tells Star. "They had chemistry for sure. It lit up the set, and everyone commented on it."
[From Star Magazine, print edition, January 28, 2008]
Fashionable Bello, 40, is a single mom who Star notes "was last linked to production assistant Bryn Mooser."
If this is true and not just guesswork it makes me sad. Fraser has three children with his estranged wife, Afton Smith. They have three boys: Griffin Arthur, 5, Holden Fletcher, 3, and Leland, 21 months. As the mother of a toddler you can see how having three kids can put a strain on a relationship, and they were probably having other issues that were complicated by this possible on-set flirtation. Still, you can't help but get a little indignant at the thought of a husband leaving the mother of his children for someone he works with. We'll have to wait and see if this is more than a rumor and if these two are a new couple.
Maria Bello is shown at the 7th Annual Awards Season Diamond Fashion Show Preview on 1/10/08. Brendan Fraser is shown at the 2005 Vanity Fair Oscar party, thanks to PRPhotos.