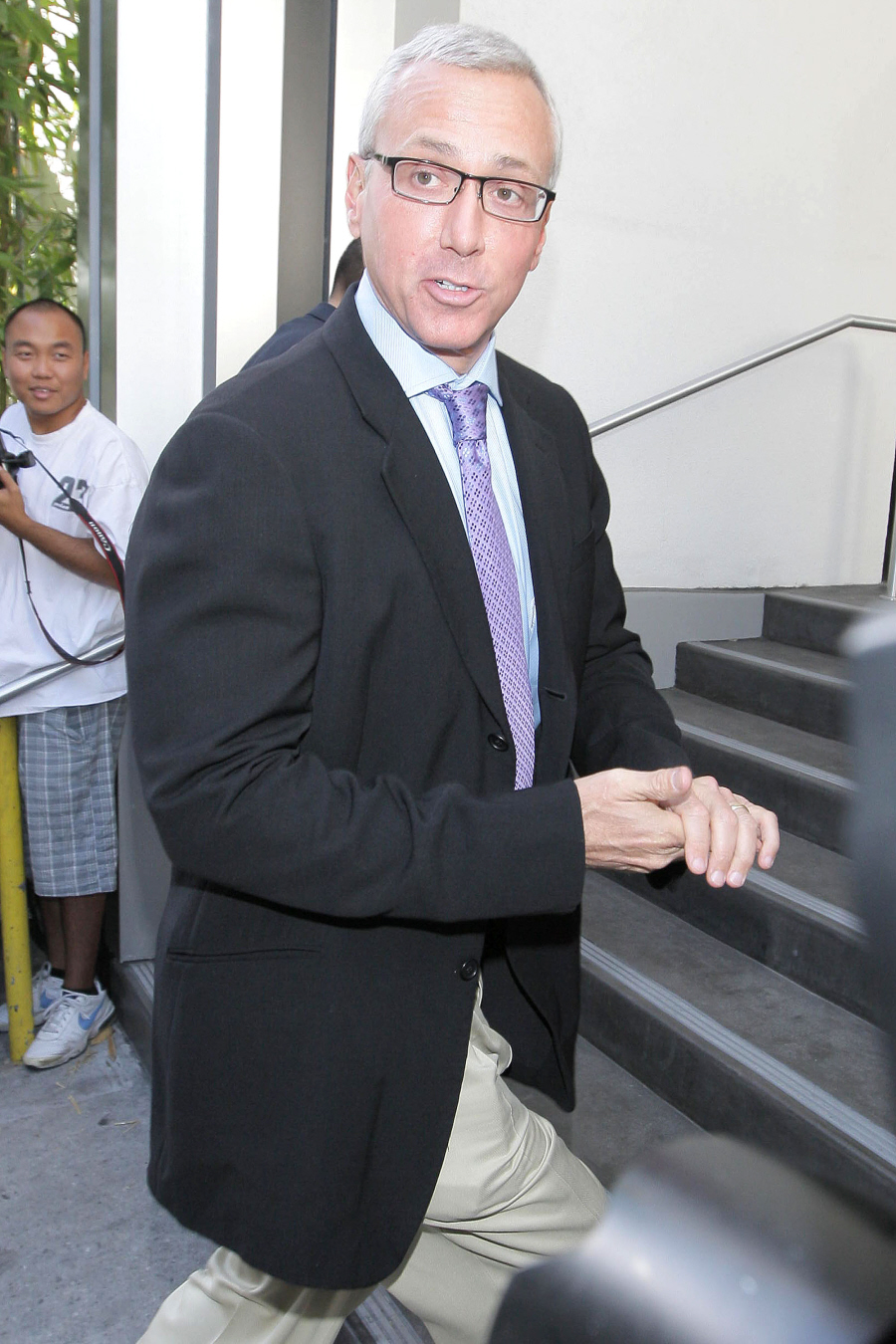 Of course I'm annoyed by the usual hemorrhoids-masquerading-as-celebrities, your Heidi Montags, your Spencer Pratts, your Tila Tequilas, your random mistresses/hookers/junkies. But few fake celebrities piss me off more than Dr. Drew. Probably because I used to like him, back when he and Adam Corrola did Loveline on MTV. After the first few years, Dr. Drew began believing his own hype, I think. Or he began seeing himself as the psychological savior to Hollywood, or maybe he just wanted more money. Whatever it was, Dr. Drew took a nasty turn and became very sanctimonious, hypocritical, unprofessional, and nasty. Just my opinion. Now I can't even sit through one of his interviews without being disgusted.
Anyway, Life & Style has an interesting story about Dr. Drew, who is currently running Celebrity Rehab on VH1. Apparently, Dr. Drew might have been a cokehead in the eighties:
To millions of viewers who tune into VH1 reality series Celebrity Rehab and Sober House, David "Dr. Drew" Pinsky is one of Hollywood's most powerful weapons against drug and alcohol addiction. But now, in exclusive interviews with Life & Style, two former colleagues at KROQ — the LA radio station that gave Drew, 51, his big break on the program Loveline — have come forward to talk about the doc's past. They say Drew knows firsthand what it's like to fall under the spell of illegal drugs — because he was once a frequent cocaine user himself.

In 1982, Drew hadn't even finished medical school when he met KROQ DJ Jim Trenton at a party. "I asked him to do this segment with me called Ask a Surgeon," Trenton tells Life & Style. "Listeners could call in and get answers to their romance and medical questions." The segment was such a hit, it soon evolved into Loveline — which remains on the air to this day.

While they spent their days helping listeners with their love, sex and health-related problems, Drew and Jim spent many of their nights partying away. Often, Trenton says, that included cocaine use.

"He used to say to me, 'Jim, I love cocaine,'" Trenton notes. "He'd say that a lot — that he loved coke." In fact, Trenton adds, Drew "did coke with a lot of different people, including myself, on numerous occasions."

Joanna Swylde, who worked as an intern at KROQ at the time and partied with Drew and Trenton, confirms Trenton's claims. She tells Life & Style they even used to snort lines of cocaine off album covers in the control room at work. "We would do it during the breaks on the show," Swylde recalls.

Although Drew used coke, "I don't think he was addicted to it," Trenton tells Life & Style. "He used it recreationally.

"I would say by the mid to late '80s, he had quit," Trenton says. "We all stopped doing it."
[From Life & Style]
Hmm… he did it "recreationally" you say, but he wasn't an addict? If Dr. Drew was treating himself, he would say that he was an addict, plain and simple, and that he needed to get to Celebrity Rehab right away to work on all of his problems, all while the camera is rolling. But, whatever. I was a child in the eighties, but from what I hear, everyone was doing coke. Which is the point I'd like Dr. Drew to acknowledge – some people do drugs recreationally without ever becoming "addicts". Some people do drugs and are able to stop without some Dr. Drew-approved rehabilitation. Some people are cokeheads for a decade and then just stop, and become sanctimonious hypocrites, doling out advice that they never took themselves.
Dr. Drew in LA on January 10, 2010. Credit: WENN.