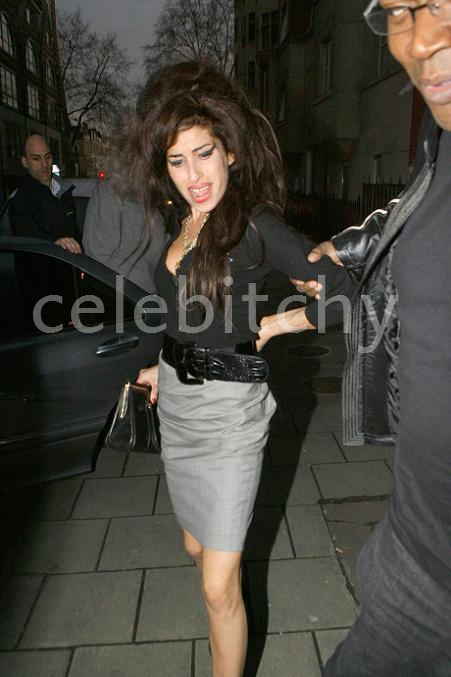 Both The Sun and Us Weekly are reporting that Amy Winehouse has finally checked herself into rehab. This morning video was released of Amy doing a wide array of hard drugs over the course of several hours. A lot of people had recently hoped that Amy was starting to turn her life around, after going on vacation with an ex-boyfriend, gaining a little weight, and dramatically changing her hairstyle. Then last week she yelled about her undying love for her incarcerated husband Blake Fielder-Civil… during his court appearance. Hope for a turnaround waned a bit. The release of the shocking drug video seemed to put the final nail in the coffin.
This morning Amy's own father told the press that she was fine and the video was no big deal, as it just showed what he already knew. While all of this seemed pretty hopeless, Amy Winehouse actually going into rehab is a big deal. She has steadfastly refused to go, with the notable exception of spending a few days at the Causeway Clinic this summer… with Blake in tow. Rehab with your husband generally doesn't work. Rehab with your using loser of a do-nothing husband really doesn't work. Considering that Amy has always refused to go to rehab all on her own, this could end up being a very good thing for her.
Amy Winehouse Is in rehab. The shamed singer left her East London home this afternoon in a blacked-out Mercedes and headed to the Edward House private rehabilitation clinic in North West London. Her relocation comes on the same day The Sun exposed a shocking video of her taking a cocktail of drugs.

Earlier in the day her dad, Mitch, arrived at the singer's home to offer support. He later followed Amy to rehab. The Black To Black star has also reverted back to her familiar brunette beehive look after ditching her blonde bottle haircut.
[From The Sun]
Amy's own website is filled with comments from fans urging her to get help. Though I'm really glad – and optimistic – that she's finally gone to rehab, I can't help but wonder what's different about this particular drug revelation. What made Amy go this time, when she wouldn't all those other times? She's been seen multiple times buying drugs, using drugs, drunk and high, she accidentally overdosed… and this is just within the last six months. After the video was released this morning, Universal Republic, Amy's label, said, "We are deeply disappointed and upset by these latest revelations and are doing everything we can to offer Amy our full support in dealing with her problems." I can't help but think someone with some influence must have put their foot down. Perhaps the video was enough evidence that Amy knew she could face legal repercussions if she didn't go into rehab and show she was acknowledging and working on her problems. Or maybe Universal threatened her in some way. Honestly, who the hell cares? Let's just hope something changes for her in rehab before she overdoses for the last time.
Update: Amy's rep is denying that she's in rehab. I'm not sure that I buy her story, but time will tell.
"Amy is not in rehab," the rep says. "She was seeing a doctor who she regularly sees as part of her ongoing treatment. It was a regular appointment which she attends all the time."
[From People]
If she regularly attends that clinic all the time, why would all the people that follow her 24/7 think she's in rehab? If she's not, I hope they tie her down and keep her there.
Picture note by Jaybird: Amy Winehouse and her dad Mitch arrive at a clinic in Marylebone, northwest London. WENN notes: Amy is clutching a note written by her husband Blake, who is awaiting trial at Pentonville Prison. The note reads: "Because I fu***g believe in us we will get through this and our kiss will taste all the sweeter for time served, I'm getting out this year." Images thanks to WENN.