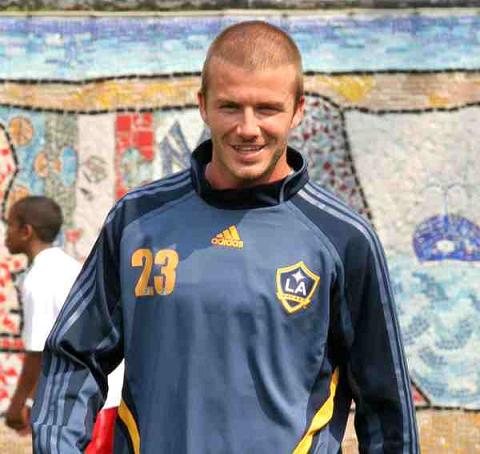 Apparently David Beckham is quite the humanitarian. Though he's most famous for being married to Posh… and something about football… he's actually been a UNICEF ambassador for seven years. Who knew? He and Posh also have their own charity, but supposedly they don't do it for publicity, which is why the rest of us haven't heard much about it. Beckham hasn't done a lot of UNICEF stuff lately, so he decided to go to Sierra Leone to draw attention to the impoverished country, which has the highest rate of child deaths in the world.
"We can't turn a blind eye to the tens of thousands of young children who die every day in the developing world mostly from causes that are preventable," added the father-of-three. "In Sierra Leone, one in four children dies before reaching their fifth birthday — it's shocking and tragic especially when the solutions are simple," said Beckham.

Measures that could be taken to tackle the problem include vaccinating against measles or using a mosquito net to reduce the chances of getting malaria. "Saving these children's lives is a top priority for UNICEF and as an ambassador I hope I can help to draw attention to this issue across the world," said the LA Galaxy star, who spent four days in Sierra Leone.
[From the Agence France-Presse]
Though I'm always a little skeptical when celebrities suddenly become do-gooders, it appears David Beckham has being one for quite some time. He's just been fairly quiet about it, and actually focuses on the cause, and not attaching his name to it. Beckham said the only reason he's doing so much publicity for UNICEF and Sierra Leone is because his role for the agency is to bring attention and publicity to the problem.
In absolutely ridiculous David Beckham gossip, supposedly he will be joining good friend Snoop Dogg and rapping on one of Snoop's upcoming tracks. David Beckham might be rapping with Snoop Dogg on a new track if rumours are anything to go by. The BFFs have so far designed a slipper together. So the next logical step is rap.
The source says: "Snoop thought it'd be a laugh and David is going to give it a real go. They are huge names so the song's bound to be a hit – even if it's no good."
[From Angry Ape]
Even if it's no good? Well at least they're keeping their expectations low. Expect an update with a complete denial by one of their reps in the next three hours.
Picture note by Jaybird: David Beckham is shown at his youth soccer clinic on 8/17/07. Images thanks to PR Photos.