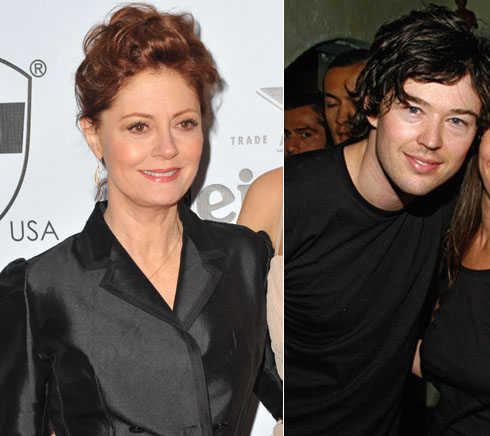 For all the vehement denials issued by Susan Sarandon's reps – and even her mom – it looks like the rumor about her young entrepreneur boyfriend may be true. The Oscar-winning actress has been pulled into a court dispute between Jonathan Bricklin, with whom Sarandon has been spending a great deal of time since her split with Tim Robbins, and his business partners at an upscale ping pong club in NYC. Bricklin's partners have named Susan Sarandon as a witness – and possibly a little bit more.
Susan Sarandon — who recently separated from Tim Robbins — is caught in the middle of a legal battle involving her new boyfriend, Jonathan Bricklin, and his two biggest investors in SPiN, the pingpong club in the Flatiron District.

The majority investors in SPiN, Bill Mack and Iwona Herdzik, claim in a suit filed last week in Manhattan Supreme Court that the club's founders — Bricklin, Andrew Gordon and Franck Raharinosy — have frozen them out of the business.

Mack and Herdzik, who together poured more than $1.5 million into SPiN, allege that Bricklin, Gordon and Raharinosy issued additional shares of the company to third parties without their approval, mismanaged SPiN's finances and threatened to shut the club and file bankruptcy.

Not in the suit are statements sources made to Page Six that Bricklin and minority partner Sarandon, who invested $50,000 in the club, are in cahoots to run the business without consulting Mack and Herdzik. The sources say Sarandon and Bricklin met at a Naked Pingpong party in February, 2008, and later became romantically involved as they worked on a video for Robbins' 50th birthday. Sarandon's rep did not respond to a request for comment.

Herdzik and Mack claim they tried to resolve things through arbitration, but Bricklin and his fellow co-founders allegedly refused and threatened to close the club and give the keys to SPiN's landlord — which would have lost the investors all their money.

A rep for SPiN responded: "Bill and Iwona attempted to take control of SPiN New York, but the judge flatly denied that request. There is zero truth to the allegations that the club is seeking bankruptcy protection.

"They tried to work out their differences with Bill and Iwona over a heated table tennis match at SPiN, but they ended up in court, which is a lot less fun."
Hmm. Naked Ping Pong. Now that's an icebreaker! This guy might be fun for now, and Susan is probably getting her groove back and all, but there seems to be some baggage accompanying this relationship in the form of a bad business deal that is about to get a lot uglier. It would be nice if Susan could step away from all this cougar/table tennis/boy toy drama and get in front of a movie camera again. She's way too classy a lady to get dragged down by this stuff.