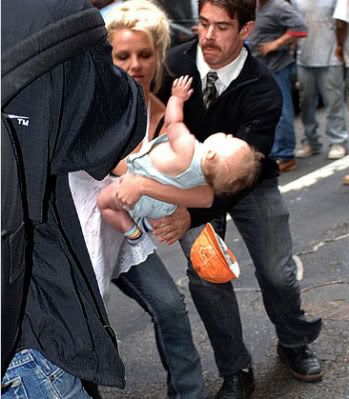 Britney almost dropped baby Sean Preston this week, and you've probably already seen the pictures and video, below. She had a terrible week in the press, and ABC News discusses how she needs to revamp her image by laying low and staying out of the spoltlight for a while. (It also wouldn't hurt if she would wear clothing that doesn't reveal both her bra and underwear at the same time.)
Britney should take a lesson from Kobe Bryant, who was accused of much worse than stupid parenting, in order to revamp her public image:
"The American public is very forgiving," Cohen says.
"If she disappears and concentrates on what she does best, this cloud over her head will disappear."
Spears might turn to Kobe Bryant for inspiration, Cohen says. The basketball star's squeaky-clean reputation was forever altered after he faced sexual assault charges. Even after he publicly apologized to his wife for his infidelity, and reached an out-of-court settlement with his accuser, it was unclear if the public would forgive him.
"Kobe was able to rescue his image. He's even doing product endorsements again," Cohen says. "If he can turn it around, so can Britney."
Britney's latest foibles aren't as damning as driving with SP in her lap. It just seems like she's tired and fed up and it's reflected in her parenting skills. From the video below, you can see how she could get frustrated and stumble with all those people swarming around her. Of course she should have put down the glass, but she doesn't even know which way to walk and looks pretty dazed.
I'm not defending Britney, but I have a husband who's around and loves to spend time with his son and I have some Britney moments. My son, 20 months, sometimes refuses to get dressed or wear shoes. He throws a huge fit and it can be impossible to get him out of the house. The other day I said screw it and let him go out in his bare feet. The nosy neighbor came out on her porch and made fun of him and I thought "If that bitch only knew what I went through to get him outside." Maybe Britney feels that way too. If you read her new "song" to K-Fed, you can tell how exasperated she is. Even mothers with loving husbands can relate to baby burnout.
Right after the incident, Britney says "This is why I need a gun." She must want to clear away some of the paparrazi who she probably blames for the stumble. She doesn't need to kill anyone, she just needs to get away from photographers. Judging from Angelina Jolie's success in changing public policy of an entire African nation, it's possible but not easily done.