Jesus, what the hell is going on over at the New York Times' blog sites? The bitches over there are going completely crazy! I'm not joking either. In the past 48 hours, NYT bloggers have referred made snide reference to Christina Hendricks being a "big girl", saying that Kate Hudson, Jennifer Aniston and Courteney Cox have "put on a little weight" and then, the pièce de résistance, some motherf-cking douchebag attempted to take Michael C. Hall to task for wearing a knit skullcap to cover his head since he's been battling cancer, for God's sake. Bitches.
First, the Christina Hendricks thing. To be slightly fair to NYT blogger Cathy Horyn, she wasn't the one to originally say, regarding Christina Hendricks at the Golden Globes, "You don't put a big girl in a big dress. That's rule number one." No, Horyn just quoted some "stylist". But Horyn's inclusion of that quote – and her agreement with it – makes her a bitch. Yes, Christina's dress was less than fabulous. But it wasn't a question of a "big girl" in a "big dress". Sometimes it's just a bad dress. Oh, and add to that this little ill-timed quirk of the NYT's photo editing: in the original online piece, Gothamist notes that NYT published this distorted photo of Hendricks… it's below, on the left, and the unaltered photo is on the right. The distorted photo was taken down after a few hours.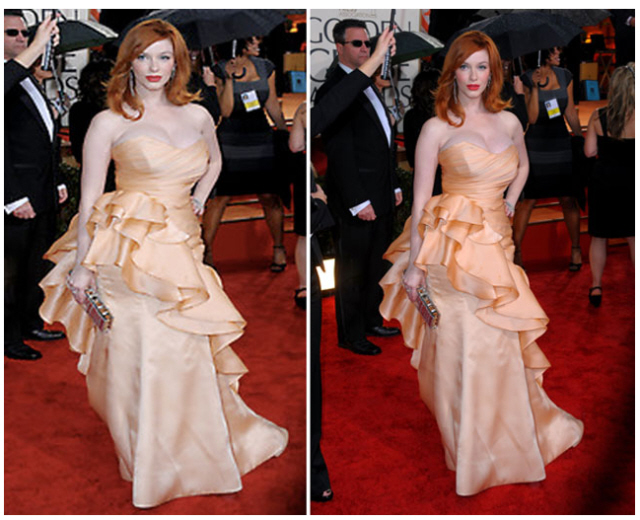 Original NYT distorted photo of Hendricks, courtesy of Gothamist.
Ugh. Now, the Cox-Aniston-Hudson thing. NYT blogger Andy Port (a woman) wrote this below a photo montage of Cox, Hudson and Aniston:
Maybe it's just me, but I could have sworn that some of the ladies who showed up at the Golden Globes on Sunday had put on a little weight. It's almost criminal to name names, because the very actresses whose body-mass indexes have been the subject of endless tabloid speculation are the very ones now sporting sexier curves. You could definitely see the difference if you concentrated solely on the upper arms. Instead of a Barbie-doll circumference, there was suddenly, amazingly, a womanly roundness to their frames. More Marilyn than Twiggy, that's for sure.
[From The New York Times]
You know what I thought when I saw Courteney Cox (photo below)? I thought "Jesus, that woman needs to stop messing with her beautiful face, she looks like a wax figure and oh look she just got her boobs done." When Courteney hears that one person thinks she looks like she's "put on a little weight" Courteney will need to schedule an emergency session with her plastic surgeon trainer. As for Aniston and Kate… just stop it. Their bodies are fine. Just shut up, bitches.
Oh, the last one. This was some blogger at the NYT blog The Moment. The guy (or girl, who cares) was apparently tweeting as celebrities showed up, and the blogger wrote about Michael C. Hall "Is Michael C. Hall playing Bob Marley in an upcoming movie. Don't get the hat or what he is hiding under it." Shut up. I hate you.
A blogger for the New York Times apparently didn't get the memo that Dexter star Michael C. Hall is battling cancer.

As first noticed at PerezHilton, on Sunday, the Times' style blog the Moment made a surprising Twitter comment about the knit skull cap Hall wore at the Golden Globes.

"Is Michael C. Hall playing Bob Marley in an upcoming movie?" the Tweet snapped. "Don't get the hat or what he is hiding under it."

In fact, Hall, 38, disclosed Jan. 13 that he is being successfully treated for Hodgkin's lymphoma, which he called a "treatable and curable condition." His spokesperson told UsMagazine.com that the cancer is in "complete remission."

The "Moment" blogger eventually realized the unfortunate oversight with a red-faced Tweet: "So sorry that Michael C. Hall has had cancer. Thanks for clarifying why he is wearing a knitted skull cap."

When the actor won a Golden Globe for Best Actor in a Television drama, he joked about his Japanese hat (covering up hair loss that is often the byproduct of cancer treatment), "it is nice to have a justifiable excuse for accessorizing!" The accessory itself, he said, was "pretty simple but maybe a little fancier than your normal thing."
[From Us Weekly]
Okay, even if you're somehow a fashion/entertainment/celebrity blogger who has somehow missed the news that Michael C. Hall is in remission from Hodgkin's lymphoma – which Hall himself announced days before the Golden Globes – how could anyone look at him (photo below) and think "Why is that idiot wearing a skullcap?" Hall looked obviously ill at the Globes. Like, he's fighting for his life and he's lost weight and his color isn't that great. So, beyond the skullcap signifier (and the fact that an entertainment blogger should actually follow entertainment news), there was plenty of visual evidence that Hall wasn't at his healthiest. Sure, I'm glad this blogger apologized. But the guy's still a douchebag.