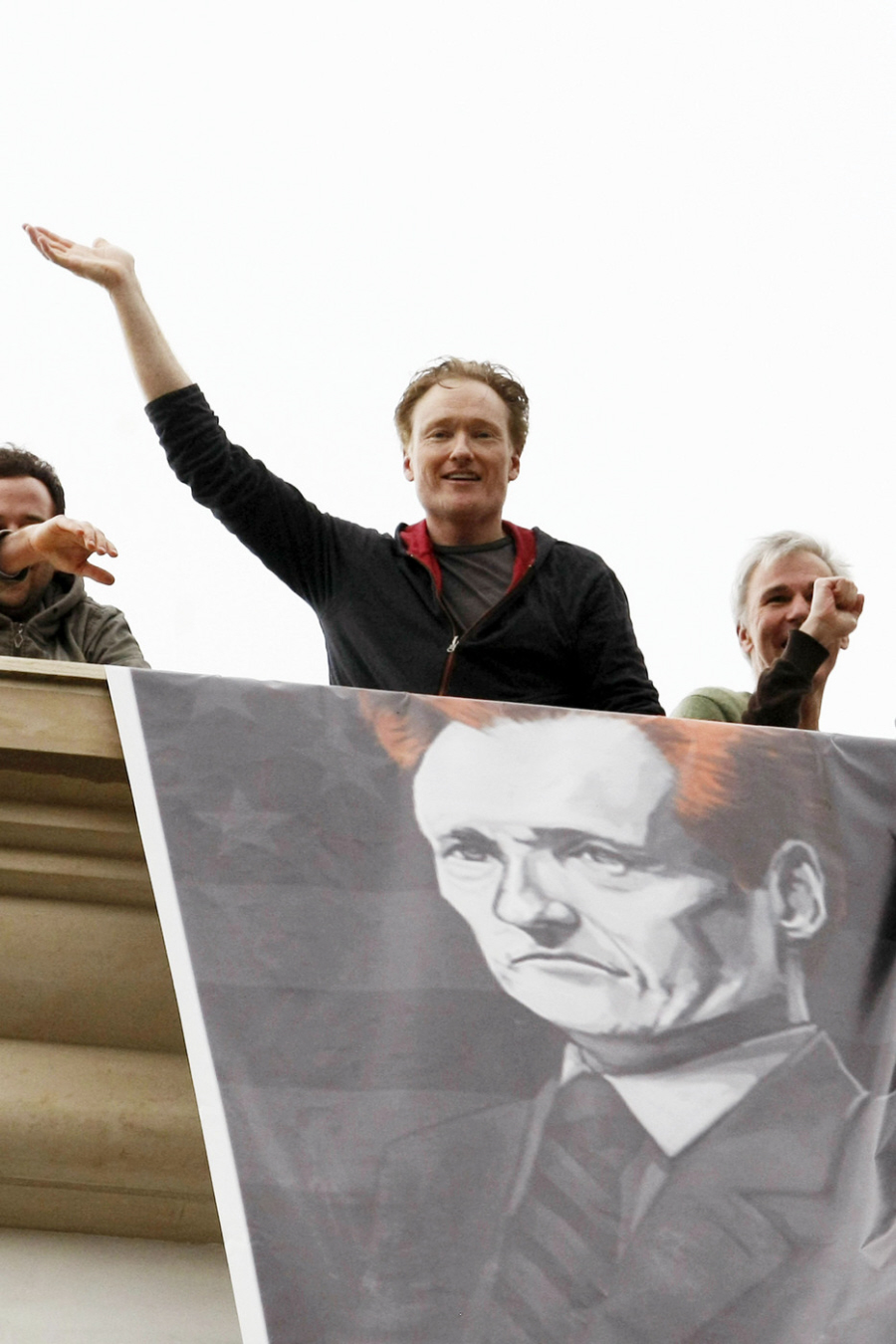 For the past week, it hasn't been so much about when Conan O'Brien was leaving, but how much money we and his staff would get, and whether Coco would burn the motherf-cker down as he left the building. Well, the severance packages have been negotiated, and it looks like yesterday's report was right. Coco did stand up for his staff, hiking a potential staff severance package (in total) from somewhere in the vicinity of $7 million to the now-kickass figure of $12 million. By my estimations, if the money is spread out equally (doubtful), Coco's 200 staffers will probably be leaving NBC with $60,000 packages each. Here's a question, though – why couldn't some of those staffers continue to work for NBC in some capacity? Is Leno going to fire everyone who ever worked for Coco?
Anyway, Coco is walking away with $33 million, although some sources are saying that Coco is going to supplement his staffers' packages out of his own pocket – which, again, is really, really cool.
Following several days of often tense negotiations, NBC and Conan O'Brien inked a deal early Thursday to end the host's short tenure on 'The Tonight Show,' NBC has confirmed. This paves the way for allowing Jay Leno to return to late night from his unsuccessful run at 10 p.m.

According to the network, O'Brien will receive $33 million and his staff another $12 million. The sticking point in O'Brien's complex exit negotiations with NBC had involved his employees. It's also believed the agreement includes a provision that would bar O'Brien from appearing on other shows or hosting for an undetermined amount of time.

His final show will be Friday, and Leno will return to 'Tonight' on March 1.

"In the end, Conan was appreciative of the steps NBC made to take care of his staff and crew, and decided to supplement the severance they were getting out of his own pocket," his manager, Gavin Polone, told The Wall Street Journal. "Now he just wants to get back on the air as quickly as possible."

The proposal allows O'Brien, who would exit 'Tonight' less than a year after taking over from Leno, to start work on a competing network as early as September. But he would be barred from making NBC the butt of jokes. Speculation that the Fox network might court O'Brien for a late-night show when he leaves NBC prompted a monologue joke Tuesday.

Listing things he might do with "all my new free time," O'Brien concluded with "Make a big move to Fox. Megan Fox."

The fate of characters developed by O'Brien and his staff was also part of the negotiations. Since they are technically the intellectual property of NBC, O'Brien deemed it the right time on Wednesday's show to bring out an old friend, one last time, [by bringing out Insult].

The negotiations became heated on Wednesday, with NBC brushing back criticism from O'Brien's camp.

O'Brien was "dug in" on getting his staffers a good severance package, but NBC fired back in a statement, saying "it was Conan's decision to leave NBC that resulted in nearly 200 of his staffers being out of work."

Adding: "We have already agreed to pay millions of dollars to compensate every one of them. This latest posturing is nothing more than a PR ploy," the network said.

O'Brien asked to be released from his contract, which has about two-and-a-half years left, after rejecting NBC's plan to push him and 'Tonight' to 12:05 a.m. EST to make way for a half-hour show with Leno at 11:35 p.m.

The network, hit by poor ratings for its prime-time experiment, 'The Jay Leno Show,' and for O'Brien's 'Tonight,' was trying to keep both comedians on board.

O'Brien has seen his viewership jump in recent days. Ratings for Leno in the same window, however, remained flat.

The dispute has repeatedly spilled on-air, with jokes aplenty made about it by Leno, O'Brien and hosts at other networks. CBS' David Letterman has been especially brutal on NBC and Leno, whom he has dubbed "Big Jaw" during several scathing monologues.

A pro-O'Brien fan protest held Monday outside Universal Studios, one of several such big-city rallies, included a mock martial arts fight between a man wearing a white Leno wig and one in a red O'Brien wig. The fake O'Brien won.

The crowd was rewarded with a studio rooftop wave from O'Brien and a few words from his 'Tonight' sidekick, Andy Richter, who thanked them and said it's been a tough time but also a "really fun" one.

"The lawyers won't let me say anything else," Richter added.
[From PopEater]
So, it's done. Maybe Coco will end up on Fox, maybe he'll just bum around LA or New York, licking his wounds. I don't know. But I've grown to like Coco a lot throughout this whole ordeal, and he's shown himself to be a man who stands up for his principles even under pressure. I hope Coco does end up on another network, and I hope he does really, really well in the years to come.
Conan O'Brien greeting fans in LA on January 18, 2010. Credit: Pacific Coast News.