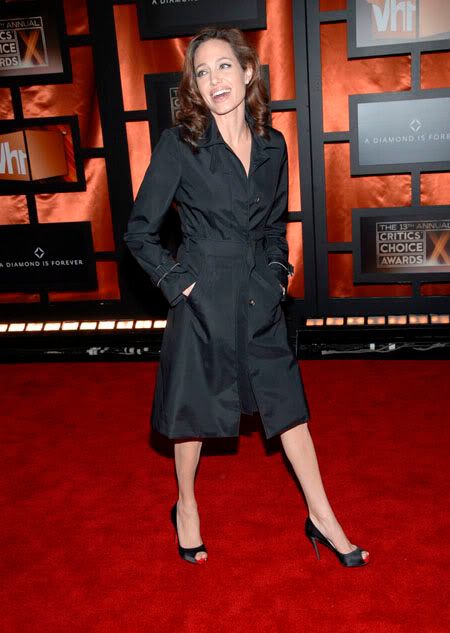 Normally I ignore the Angelina Jolie pregnancy rumors, since she's either knocked up or adopting or trying to get pregnant all the time, if you believe the tabloids. However, a couple of weeks ago she was looking very busty compared to her recent thin figure, and now Star magazine says she's pregnant. With twins no less. The pregnancy rumours have kicked into overdrive (like her pregnancy hormones perhaps?) so here it all is.
Earlier this year, Angelina Jolie was seen visiting the office of Dr. Jason Rothbart, who treated her during her first pregnancy and delivered her daughter Shiloh in Namibia. It is believed that she was advised by Rothbart to put on some weight, or he would be unable to help her achieve a second pregnancy.

Angelina herself has been open about her desire to be pregnant. And now she has apparently been spotted at the OB GYN office of the doctor who helped Nicole Richie through her recent pregnancy.
Or, are the Jolie-Pitt's planning on bringing their philanthropic duties home with them from New Orleans? While Brad and Ange have been working to raise the profile of Katrina victims and rehouse them through the Make It Right foundation, Brad has apparently fallen in love with a little lady orphaned by the hurricane and would like to give her a home. How Brad and Angelina can go into situations like that and not want to take home all the kids is beyond me. I would find all that kind of work so hard, they do such a great job.
However, perhaps they'll be adopting an African baby girl, to make daughter Zahara happy with an African role model within the house. Angelina's attention seeking brother James Haven has again given an interview about his famous sister.
James Haven said: "They are creating one big family and will keep adopting as long as they are able to."

It's understood that the two of them are looking for a little girl. They have already adopted Maddox, six, Pax, four, and Ethiopianborn Zahara, two, and have a biological daughter, Shiloh, who is one.

The couple will start looking at orphanages over Easter.

James said: "Angie and Brad talk about how much they have been taught by their kids. In many respects Angie saved Zahara's life and there are so many more children whose lives she could save and she talks about that constantly."
I tell ya, being pregnant with twins when you want a lot of kids is a great idea. So is adopting. By adopting three children and having twins, Angelina Jolie has just saved herself 36 months of pregnancy. Not too shabby.
So whether they are adopting a Katrina Orphan, or an African girl, or having twins, I'm going to say this definitely: Brangelina will probably have another resident in the house in 2008.
Angelina and Brad are shown at the Critic's Choice Awards.