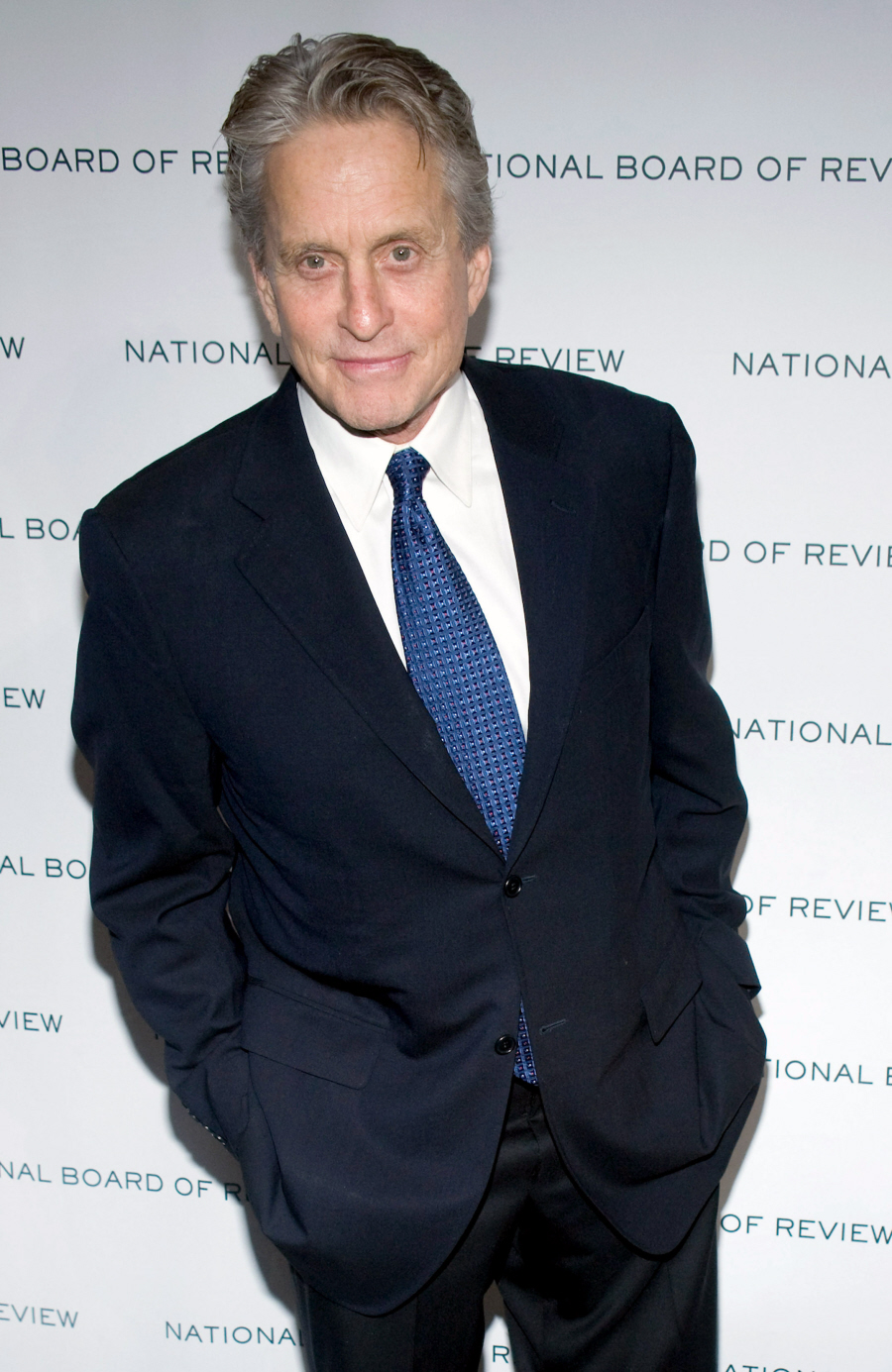 I don't really remember the last time I genuinely liked Michael Douglas. Let's see… it was probably around 2000, when Wonder Boys and Traffic came out, and I had high hopes that he would have a career resurgence doing fascinating, challenging work. That faded fast (although Wonder Boys is still one of my favorite films of all time, and worth watching every few months). Michael fell into an acting rut, and basically became his wife Catherine Zeta-Jones' "escort" for various events. He got a horrible face lift, said dumb stuff in the press, and generally seemed old and dotty.
Anyway, Michael is trying to get attention again, I guess. He's filming Wall Street 2: Money Never Sleeps (or as I like to call it, "That movie with Shia LaBeouf walking around in a suit") and he's the cover boy for next month's AARP Magazine (full article online here). It's a long piece, but People Magazine has some interesting excerpts, including Michael's revelations that he was a pretty crappy father, and that he needs to slip himself some Viagra to get it up for his wife. Oh, Michael:
With his son, Cameron, in federal prison after his July 28 arrest on felony charges of dealing drugs, Michael Douglas says he was "no angel" as a father.

"I'll assume whatever responsibilities I have to," the leading man, 65, tells AARP The Magazine for its March/April cover story. "Would it have been better to have been around more? Absolutely. There were absences, and I was no angel."

Douglas said his troubled, 31-year-old son – who faces a potential life sentence on charges of dealing crystal meth – also is taking responsibility for his choices.

"Cameron has a lot of life ahead," said Douglas, who reprises his Oscar-winning role as corporate raider Gordon Gekko in Wall Street 2: Money Never Sleeps, opening April 23. "He now recognizes his own demons and struggles."

And though Douglas says his son is a "tough kid," he still expressed concern for Cameron's welfare: "He's in a federal prison, and you've got some big, bad boys down there."

Espouses Viagra
On a lighter note, Douglas shared other intimate details of his life, including his relationship with wife Catherine Zeta-Jones, 40, who "God bless her … likes older guys", and how male enhancement drugs Viagra and Cialis are "wonderful enhancements."

Douglas also says he is able to give greater attention to his children with Zeta-Jones – daughter Carys, 6, and son Dylan Michael, 9 – than he could to Cameron. "I'm not so concerned about my career," he said. "I see the confidence my kids have got versus the struggle for confidence that I had or that Cameron might have dealt with."

Still, he's admittedly fearful of being a septuagenarian when his daughter hits her Sweet 16, saying: "I'm not going to be able to physically chase the boys away."
[From People]
Um… is Michael only thinking about how he's going to be in well into his 70s when his daughter starts dating? Now, I'm not a judgy person. (Chuckles, wipes tears of laughter from eye.) I don't have a problem with old(er) men having babies with young(er) women. I get it, on some level. I don't think it's nasty or gross, unless the age difference is completely out of whack. But what strikes me about Michael, especially over the past decade, is that he seems to have lost track of things. I think he married Catherine, yes because he loved her, but also because he was older and she was younger, and wasn't that something, and now people will think he's still got it. Instead, people made fun of their age difference, Michael stopped working so much, he got that horrible facelift and he probably spends most of his time puttering around the house or playing golf. If that's what he really wants, so be it. But he makes me sad. Oh, and I don't want to hear about his Viagra, either. He reeks of dirty old man.
Michael at the National Board of Review awards on January 12, 2010 in New York, credit: Flashpoint: WENN.com.