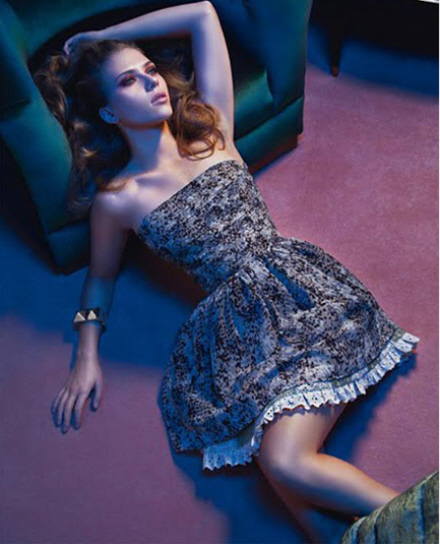 Scarlett Johansson is the face and body of several products these days – she's got contracts with everyone from champagne companies to Reebok. This is her third campaign with Mango, a clothing line known for…God knows. Because I can't really tell their style from Scarlett's ads. In her previous ads for Mango, ScarJo worked an old-school Courtney Love-Debbie Harry vibe with bleach-blonde hair and animal prints. In this current season's Mango ads, ScarJo is back to red, and she's looking… is "corpsey" a word? My spellcheck doesn't seem to think so, but it's staying. She looks corpsey. Part of the makeup – why would you use mortician's makeup on poor ScarJo?
But I've always thought ScarJo is very dependent on styling. Yes, I think she's a beautiful girl, but if you style her the wrong way, she can look like… well, death. Corpsey, again. But, whatever. Girl's getting paid.
Other than that, there's not a ton of ScarJo news. She's on Broadway right now with Live Schreiber, doing A View From the Bridge, which seems to be getting solid-to-average reviews. In addition to that, ScarJo was one of the stars to help raise $9 million for Haiti during CNN's Haiti: How You Can Help. She also auctioned off a meeting for some lucky fan to come and see her after a performance of A View From The Bridge, with the proceeds going to Oxfam. Good girl!
Mango ads courtesy of Popholic.