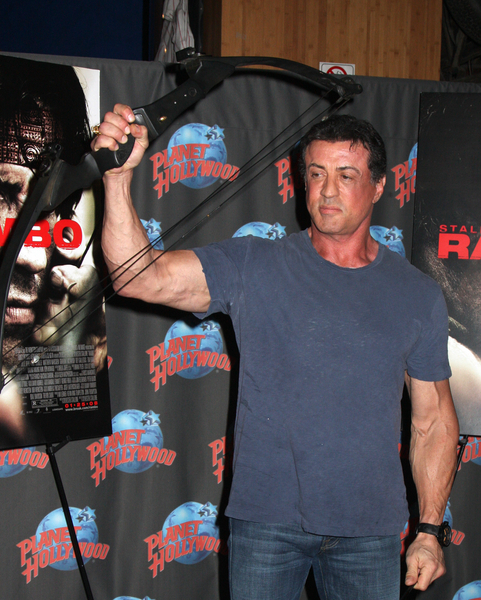 Never let anyone accuse Sylvester Stallone of being a gentleman. Or classy. Or dignified in any way. Sly's had a number of unhappy relationships over the years. He's also been injecting God knows what into his body for at least the last… well let's see, he's 61 now… so I'm going to say he's been injecting crap into his body for at least the last 58 years. Though if you've ever seen pictures of his mother, Jackie Stallone (who is an astrologer, former dancer, and promoter of women's wrestling) you know the odds are pretty good he was getting some type of injection in the womb. That woman is all kinds of crazy. Anyway, Sly hooked up with equally crazy and self-proclaimed "World's first supermodel" Janice Dickinson back in the early nineties. And between the mouths on the two of them, you'd think it'd be a match made in heaven, right? Well either that or a total nightmare, and it turns out it was more the latter. Janice got pregnant with what she thought was Sly's daughter – turns out she'd slept with three guys in one week, and Stallone was not the dad. But they didn't know that until two months after Dickenson's daughter was born, and she and Sly stayed in a relationship until he found out the paternity. Janice is now claiming that not only did Sly juice himself, but he'd inject her too.
On U.S. news show Red Eye earlier this week, Dickinson alleged she had seen Stallone doing steroids. She said: "He juiced me.

"I'd wake up and my arm was as big as Popeye – steroids, testosterone, all that stuff that people say [mimicking Stallone voice], 'Hey, it's not that good 'cause you get really big, you know what I mean?'"

Host Greg Gutfeld replied: "So that's an actual confirmation, though? You did see him juice?"

Dickinson answered: "I did confirm that, didn't I?"
[From the Daily Mail]
Awesome. Dickinson claims that thanks to Sly's "vitamin" and exercise regime, she was able to walk the catwalk for Versace six weeks after giving birth. Apparently her claims didn't sit well with the always-upstanding Stallone, and he felt the need to defend his gentlemanly honor on Howard Stern's show yesterday.
Sylvester Stallone had an armed guard deliver an advance screener of the new "Rambo" to Howard Stern, who gave the flick five stars when Sly called in yesterday to see if he liked it.

The talk quickly turned to women, with Sly denying Janice Dickinson's claims he injected her with steroids. "The only thing I injected her with was my fist," he joked. He also claimed Brigitte Nielsen was one of the "least crazy" women he's dated and that saucy redhead Angie Everhart was demented.
[From Page Six]
You know what's always funny? Jokes about beating up your former girlfriends. Really, that humor never gets old. God forbid there were 8 people left in the world that didn't think Sylvester Stallone was a total slime ball. He's probably just cranky from all the steroids he's not injecting into himself. Or anybody else. I'm not saying there's any reason to believe a word that comes out of Janice Dickinson's mouth. That woman redefines crazy. But it's probably not the greatest thing to joke that you beat her up. I think if there's anyone out there who's crazy enough to take on Sylvester Stallone in a fight, it's Janice Dickinson.
Picture note by Jaybird: Here's Janice Dickinson at the Fox Reality Channel Really Awards on October 10th. Header of Stallone donating memorabilia from "Rambo" to Planet Hollywood on January 17th. Images thanks to PR Photos.