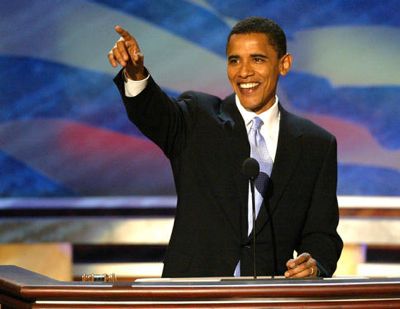 Since celebrities are so notoriously publicity shy, you really can't blame them for hiding out and refusing to talk about their personal lives. What? They need publicity to have good careers? Holy crap you must be joking. Okay I'm kidding, I get that there's a delicate balance between privacy and publicity, and Scarlett Johansson seems to know just how to balance the two. Rumors were floating all over the internet this past week that Johansson and boyfriend Ryan Reynolds were engaged. The two have been pretty private about their relationship – it's nearly impossible to find a photo of them together. So we're really not expecting any kind of confirmation until someone at the Enquirer gets a hold of their marriage license or something. In a sense it keeps things private for the couple, and in another way it increases the buzz. Crafty. Yesterday Johansson confirmed that she was in fact engaged. To Barack Obama.
Scarlett Johansson returned from the Persian Gulf with a whole lot of soldiers' trinkets and a delusion of her own engagement — to Barack Obama.

"I am engaged … to Barack Obama," Johansson joked in an interview with The Associated Press on Thursday. "My heart belongs to Barack, and that is who I am currently, finally, engaged to. Yes."

Johansson, who showed her support for the Democratic presidential candidate at the Iowa caucus earlier this month, was really just deflecting a question about rumors she might be engaged (to actor-beau Ryan Reynolds).
[From the Associated Press]
Johansson was giving interviews after returning from visiting troops in the Persian Gulf last week. Apparently she had a blast. It always makes me a little curious when celebrities visit the troops and talk about how much fun they had. It's nice that they go, I just find it a little … unusual to talk about how you brightened their day.
"Everybody that I met there was so incredibly friendly and polite and genuine and generous," she said. "They were so, so sweet. I mean, I was just amazed."

Johansson said some people ripped patches off their jackets as gifts and handed her challenge coins from their military units. One Marine offered up his St. Christopher medal. Another starstruck guy gushed: "You made my whole deployment!"
[From the Associated Press]
It's good that she took some time to do that. In other Scarlett Johansson news, she's releasing her first CD on May 20th. Titled "Anywhere I Lay My Head," she's been working on it for the last year. Actors traditionally have a hard time being accepted as singers, though the reverse isn't true. I can't think of any that have made the transition successfully. Hmm… Eddie Murphy… Scott Baio… Danny Bonaduce… Tony Danza… Peter Gallagher… Jared Leto… Lindsay Lohan… Alyssa Milano… hmm, this isn't looking good for Scarlett. And I'm not under the impression that any of these actors got a lot of credit for at least trying. The only success I can think of would be Jamie Foxx – he was an actor first and then put out an album. Though to be fair, his first attempt, 1994's "Peep This" wasn't exactly a commercial success. Hopefully Scarlett Johansson stays away from hip hop tune about TV shows.