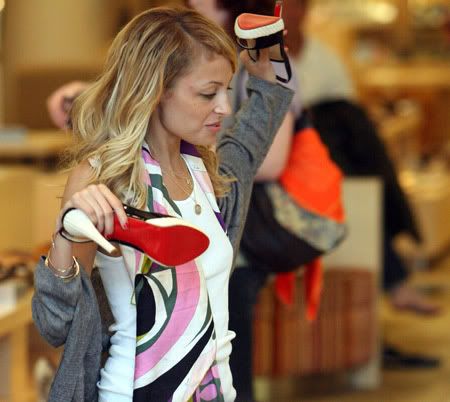 The NY Post is reporting that DJ AM and Nicole Richie broke up for the second time because Richie didn't gain weight and stop partying as AM requested:
NICOLE Richie and boyfriend Adam Goldstein, a k a DJ-AM, broke up again last week – and insiders say it was a weight issue. One spy said: "After they got back together for the second time, she said she would improve her eating habits and stop her unhealthy extracurricular activity [such as going out so much]." But Richie still goes to clubs and is still skeletally thin, despite telling Vanity Fair that she is getting help from a psychiatrist.
This was said to be the reason they broke up the first time, so it's not surprising. Nicole Richie knew that she needed to gain some weight to save her relationship, and she still couldn't do it. That reveals how much of a problem she has. She needs to check herself into a clinic. If she gained 20 pounds she would look so much better, and she needs to do it for her health.
Sky News quotes Richie's dad as saying that she's planning a wedding that he will be more than happy to pay for. He must not have heard the breakup news:
Legendary singer Lionel Richie says Nicole and Adam are not just back together – they're planning a trip down the aisle.
He broke the good news to the Daily Mirror before he took to the stage at the Prince's Trust concert in London on the weekend.
Lionel, who's Nicole's adoptive father, said: "I told her: 'Honey, you do what you want and just send me the bill.
"I'm really happy that it's working out for her," said the 56-year-old former Commodores star.
Richie will have to have a talk with her kind dad. Here she is shopping for shoes at Barneys on 5/19. Does she look healthy to you?
Pictures [via]