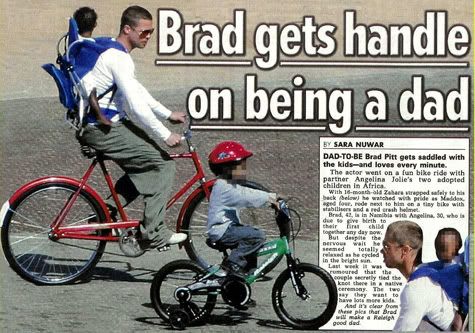 Angelina was supposedly in labor on Friday, and this story may explain that rumor, or it could be total b.s. like a lot of the stories about the Jolie-Pitts. Life and Style is reporting that Angelina is having early contractions:
On May 9, Brad's brother Doug Pitt was overheard saying that Angie was having early contractions.
This of course is basically normal but "Brad's freaking out," an insider tell the weekly magazine. Angelina is dealing with the worries in her own way, taking it in stride according to the report.
A friend of mine also had early contractions in her pregnancy, and everything turned out fine, so if it's true it's probably not much to worry about.
The couple's 16 month-old adopted baby, Zahara, is said to be suffering from a mystery illness that also has Brad and Angelina worried. Zahara has rickets, a bone disorder caused by a vitamin D deficiency, but this sounds like something else:
The stars have fallen out over how best to treat 16-month-old Zahara.
The stricken tot has stopped sleeping properly, cries frequently and screams when put on her back.
Brad, 42, wants to take her to America for treatment but Angelina insists they must stay in Africa until their baby is born.
A source said: "Brad is absolutely beside himself. He's desperate to take Zahara to the US for medical attention.
"But Angie insists on staying in Africa. It has caused a number of fights between them."
There are fears it could be a genetic illness — and Angelina may have to contact Zahara's real mother for medical background. The source said: "She's had so many tests, but no one knows what's wrong."
Zahara's symptoms incredibly worrying and we hope the baby gets well soon! Hopefully she will get proper treatment and they will figure out what's wrong with her.
The Namibian government has been giving baby gifts as a thank you to Angelina, and has sent a representative to teach her about local birth customs. They seem to be going out of their way for Angelina and Brad, and it seems like Angelina picked a country with a very accommodating government.
Our thoughts go out to baby Zahara. Hopefully she will be fine and Angelina will have an uneventful labor and birth.
Header picture [via]