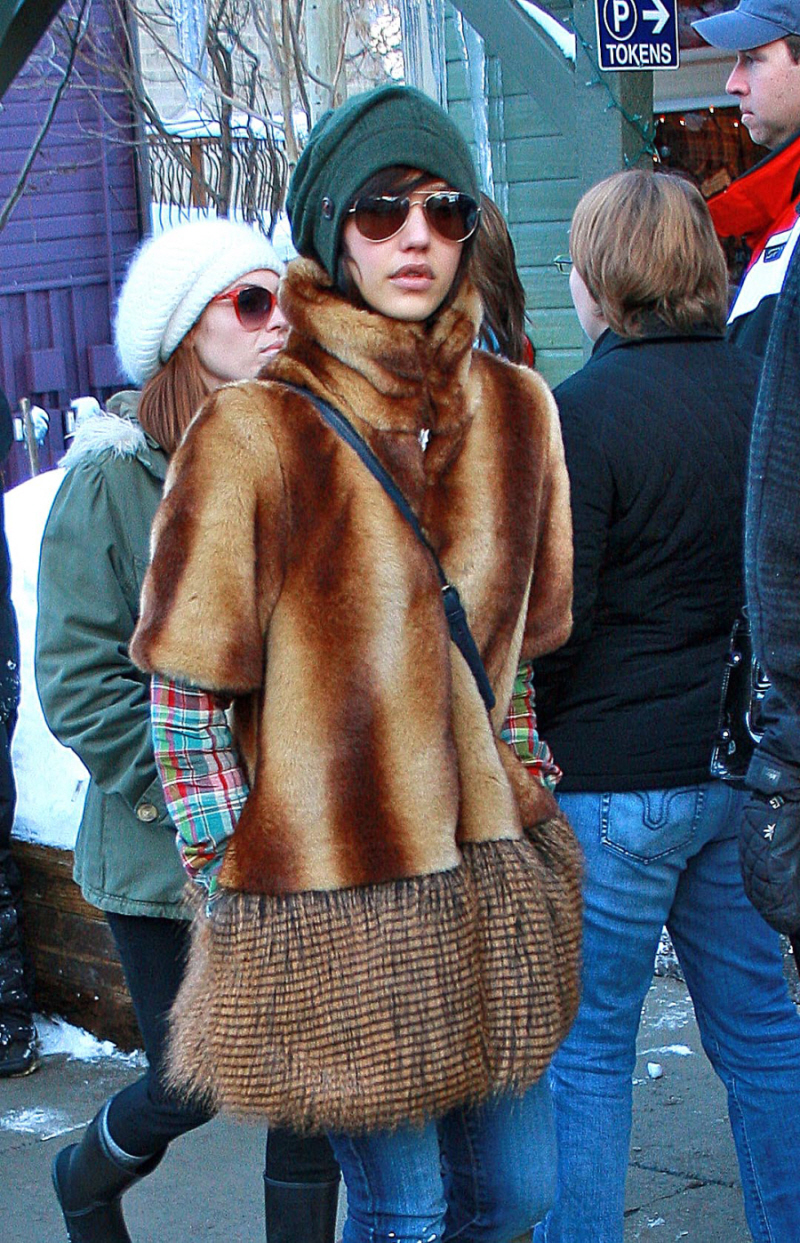 I don't even know where to start with Jessica Alba's latest outfit. At first I thought this was a cropped jacket with some kind of fur miniskirt, but the whole thing is one coat! I was going to give a weak defense of her, claiming that she just wore this fur monstrosity as she was walking around the Sundance Film Festival, minding her own business. But she also wore it to a premiere! Ugh. Remember when the only thing really going for Jessica Alba was that she wore really great clothes? I think that's over. Now what does she have? A husband that gets it on with Lindsay Lohan, not much of a career, and bad clothes. No wonder she always looks miserable.
With freezing temperatures reaching as low as -13C at the Sundance Film Festival yesterday, you can't blame Jessica Alba for wanting to keep warm. But wrapping herself in an unattractive two-tone fur coat will do little to endear herself to animal lovers or fashion followers.

The actress at least managed a smile for photographers as she soaked up the atmosphere in freezing Park City, Utah. As well as the coat, Alba's was kitted out in woollen leggings, black biker boots and a green beanie hat.

The 28-year-old is at the festival to promote The Killer Inside Me, but has also been checking out the competition after she was spotted at a screening of Blue Valentine.

Alba is hoping for a hit with her new movie – directed by acclaimed British filmmaker Michael Winterbottom after her last few films failed to perform as well as expected. Alba received two nominations for Razzie Worst Actress for her performances in The Eye and Love Guru two years ago.

The Killer Inside Me stars Casey Affleck as police deputy in a small Texas town who lives a double life as a serial killer. Alba plays a prostitute named Joyce, alongside Kate Hudson as his schoolteacher girlfriend Amy.

As well as The Killer Inside Me, Alba also has three more movies out this year, including Machete, Valentine's Day and An Invisible Sign Of My Own.
[From The Daily Mail]
I can't believe Michael Winterbottom hired her! What the hell? He's a really good director, and he should know better. And speaking of directors who should no better, Robert Rodriguez (who directed Machete) might be in big trouble – word is that Machete sucks big time. I'm fully prepared to blame Alba. And Lindsay Lohan. Oh yes, they're both in it!
Jessica Alba at Sundance on January 24, 2010. Credit: INFphoto.com