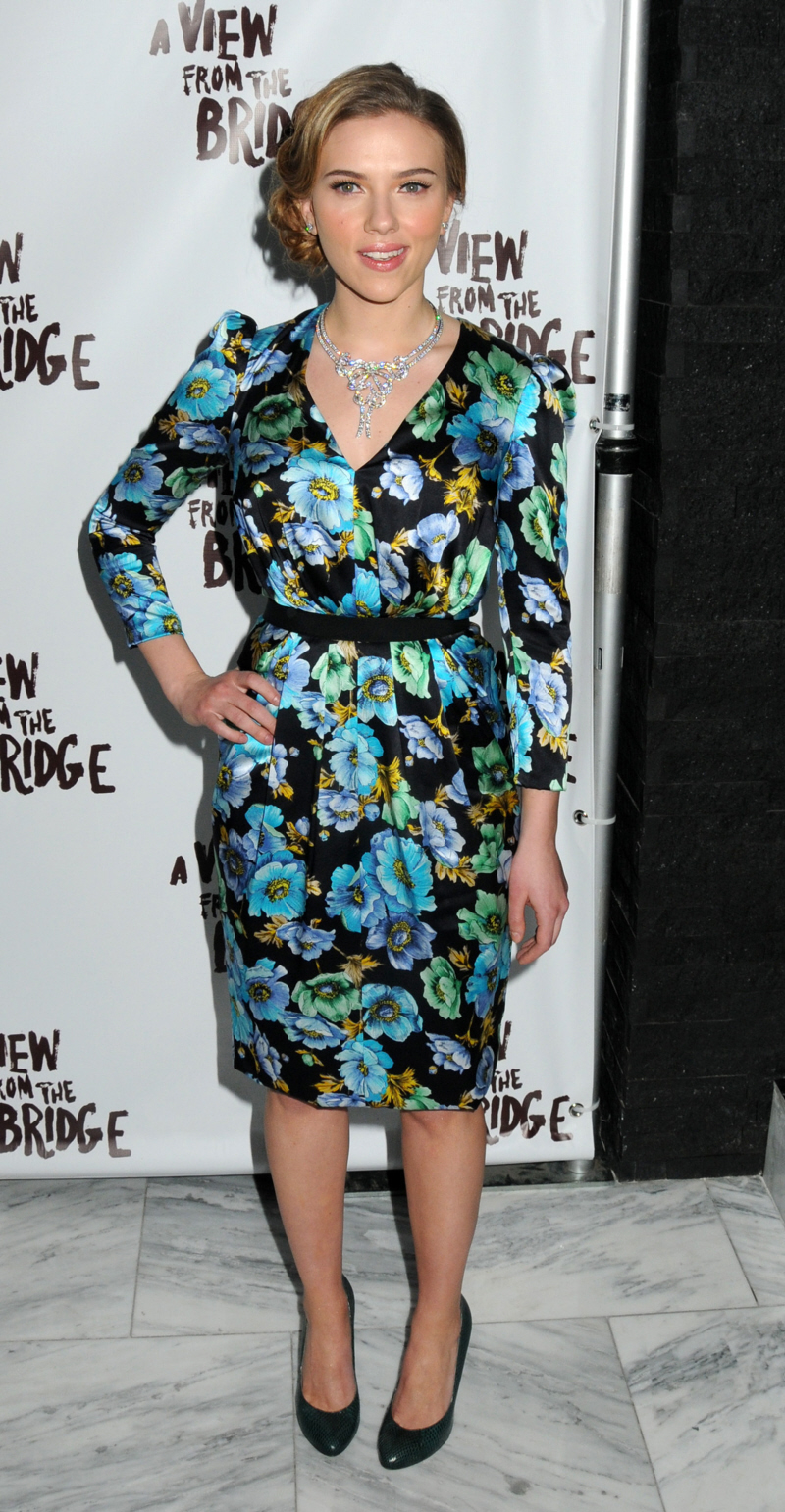 Here is Scarlett Johansson at the opening night of her Broadway debut, A View from the Bridge. Sidenote: I keep wanting to type "A View to a Kill" which is that awesome Roger Moore-James Bond movie with Christopher Walken as the bad guy. Anyhoodle, ScarJo looks cute, right? Although her styling can be hit or miss, I can appreciate how hard it is for her to cover up her puppies and look classy. The dress seems very old-lady-ish, but on ScarJo it just looks vintage and cute. I like her hair a lot too – but the necklace should go.
Anyway, it seems that ScarJo is a big hit on a Broadway! I haven't really investigated all of the reviews or anything, but from what little I've read, everyone seems to think ScarJo is awesome. Ben Brantley of the New York Times (the biggest bitch out there) even noted that where other famous actresses, like Julia Roberts, Keira Knightley and Katie Holmes "create their own discomfort zones onstage, defined by the mixed expectations of fans and skeptics," ScarJo "melts into her character so thoroughly that her nimbus of celebrity disappears." High praise!
What's extraordinary about Gregory Mosher's beautifully observed production of "A View From the Bridge" is how ordinary most of it feels. Very little in this revival of Arthur Miller's kitchen-sink drama with knives, which opened Sunday night at the Cort Theater, calls loudly for our consideration. Voices are often kept to a just audible murmur, and the Hollywood sheen of the show's big-name stars, Liev Schreiber and Scarlett Johansson, has been dimmed to a matte finish.

Watching the daily rituals of the small family in mid-1950s Red Hook, Brooklyn, made up of the characters so exquisitely played by Mr. Schreiber, Ms. Johansson and Jessica Hecht, feels like spying across the alley on neighbors who would normally be invisible to you. Yet there's no question of not paying them the attention that Miller demands.

Looking closely, you notice hairline fissures of unease. What has been cozy becomes, by degrees, claustrophobic, and even if you don't know the play's outcome, you're apt to discover a knot in your stomach. A part of you feels that you should stand up and yell, to defuse tension and deflect disaster, though, as one character notes retrospectively, "nothing at all had really happened."

Mr. Schreiber is such a complete actor that he has often thrown productions into imbalance, highlighting the inadequacy of the performances around him. That is not a problem here. That the excellent stage veteran Ms. Hecht holds her own with Mr. Schreiber is no surprise. That Ms. Johansson does — with seeming effortlessness — is.

In recent years Broadway's stages have been littered with dim performances from bright screen stars, including Julia Roberts and Katie Holmes. Film actresses as famous as Ms. Johansson tend to create their own discomfort zones onstage, defined by the mixed expectations of fans and skeptics. I was definitely aware of that zone when I saw Keira Knightley in "The Misanthrope" in London recently.

By comparison, Ms. Johansson melts into her character so thoroughly that her nimbus of celebrity disappears. Her Catherine is a girl on the cusp of womanhood, feeling her way down familiar paths that have suddenly been shrouded in unfamiliar shadows.
[From The New York Times]
Good for Scarlett. Does this mean that ScarJo will end up a fixture of the Broadway stages? Who knows? I don't know what's going on with her lately. Sometimes I think she's totally over being a sex symbol and she wants to be seen as a "serious actress". Other times she seems like she enjoys the Hollywood game, and she plays up her sexy side and her connections. It's anybody's guess at this point.
Liev Schreiber and Scarlett Johansson at the opening night on January 24, 2010. Credit: WENN.