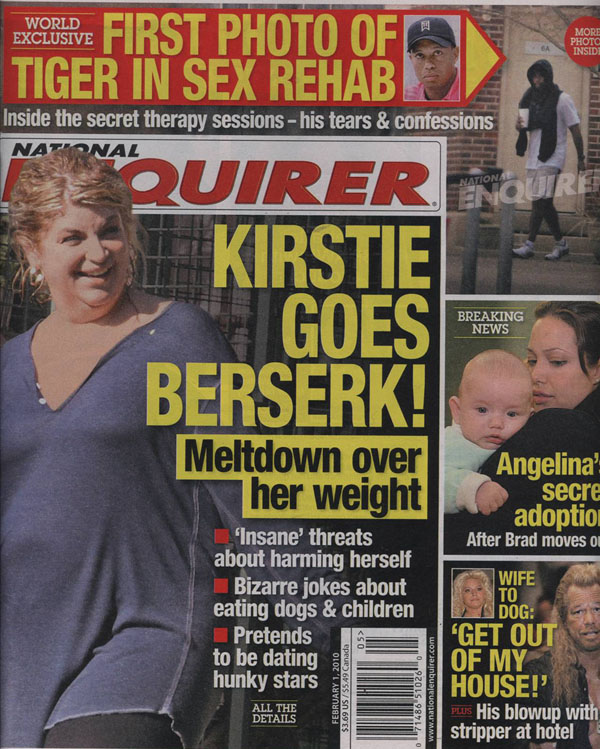 An unflattering photo of Kirstie Alley is featured on the cover of this week's National Enquirer with the title "Kirstie goes beserk, meltdown over her weight!" and bullet points like "'Insane' threats about harming herself," and "Bizarre jokes about eating dogs and children." Inside, the article uses Kirstie's goofy posts to Twitter to show that she's losing it. They don't make a decent case. I mean, Kirstie has always been kind of unhinged and she writes dumb sh*t on Twitter all the time. She's a Scientologist and often raves online about the dangers of prescription drugs. She's also made no secret of the fact that how she hopes to have sex with Jaime Foxx one day. (From what the guy has said, he'll probably oblige.) It's nothing new for her.
They do have a point that Kirstie promised Oprah earlier last year that she'd be on again in November sporting a bikini (just like the last time) and of course it didn't happen. Kirstie's new A&E reality show is launching in March and she's probably nervous and embarrassed about the fact that she didn't lose weight yet. She's also supposed to debut some new fitness and diet plan and keeps making vague promises about it on Twitter. Here's the Enquirer's take from their website. The mean part at the beginning in which they call her a "human zeppelin that failed to deflate" is only in their online version and isn't in the print edition:
Formerly svelte Cheers star Kirstie Alley's meltdown as human zeppelin fails to deflate despite promises, suffering a devastating emotional meltdown after realizing her plan to lose weight is WAY more difficult than she thought.

In a bizarre series of rants on Twitter, the 59-year-old – who ballooned to an astonishing 265 pounds last fall – has cracked sick jokes about eating children and dogs, made threats about harming herself, boasted intimate details of imaginary love affairs with two famous men and made violent threats against other celebrities.

"Kirstie is a babbling mess," an insider confided to The ENQUIRER. "Her bizarre rants are obviously a desperate cry for help.

"She's mad that she has to limit her food intake, exercise and say no to sweets, so she's lashing out in outrageous ways."

In an attempt to make light of her diet frustration, Kirstie quipped in a Twitter post: "I JUST ATE A side of beef, 2 kindergarteners, a hot tub of linguini, 3 Dalmatians, and a big plate of doughnuts."

"She's trying to be edgy and funny, but Kirstie's so-called jokes make her seem like she's completely losing her grip on reality," continued the insider.

"She's crowed for months about how she's going to turn her life around and get thin and fit, but she's buckling under the pressure.

"She's swearing she'll lose 70 pounds by June 15, but that's an unrealistic goal.

"I think she finally realizes that with her new weight-loss show debuting in March that she'll be forced to eat her words."

Kirstie's anguish came to a head after overindulging in a decadent Jan. 12 birthday dinner. Her teenage children, True and Lillie, had taken her for a celebratory feast at her favorite Asian fusion restaurant, Mr. Chow in Beverly Hills, where Kirstie indulged by eating dumplings and chocolate cake.

"Her birthday dinner was a major diet slip-up, and it sent Kirstie over the edge," said the insider. "She's insisting that she's finally got her workout and diet regimen under control, but that just isn't so."

Kirstie recently launched a weight-loss Web site to tie in with her new A&E reality show, she'll soon publish a book, and she's been boasting for months that she'll be unveiling what promises to be a revolutionary diet and exercise system.

But Kirstie has broken public promises before. During a bizarre appearance on The Oprah Winfrey Show last April, Kirstie swore she'd return to the show in November 2009 showing off her new and improved figure in a bikini. She also claimed she was already losing weight on her own self-devised, soon-to-be-released weight-loss program. She never appeared on the show in a bathing suit – and her weight continued to skyrocket.

"Kirstie has repeatedly pushed back the launch of her mysterious diet program. Her friends are really starting to wonder if it's all smoke and mirrors," continued the insider. "They think it's a load of bull and that the diet plan doesn't even exist.

"Kirstie is petrified that she's going to be exposed as a fraud."
[From The National Enquirer]
Kirstie's website for her "weight loss system to be released in November" is just one page with a dumb animation that features a cartoon with her head pasted on it that jumps on a trampoline and goes from thin to fat. You know she came up with that asinine concept by herself. I bet that November means 2009 and we know that was a while ago.
There are plenty of other decent diets that work and even if Kirstie does manage to reach her goal weight I doubt anyone is going to be clamoring for her advice. She made an announcement in a long statement posted to People way back in February, 2008 that she would be launching her own "weight loss brand." Fast forward two years later and she's still struggling. Maybe she should have just joined Weight Watchers since Jenny Craig didn't have long term results for her.