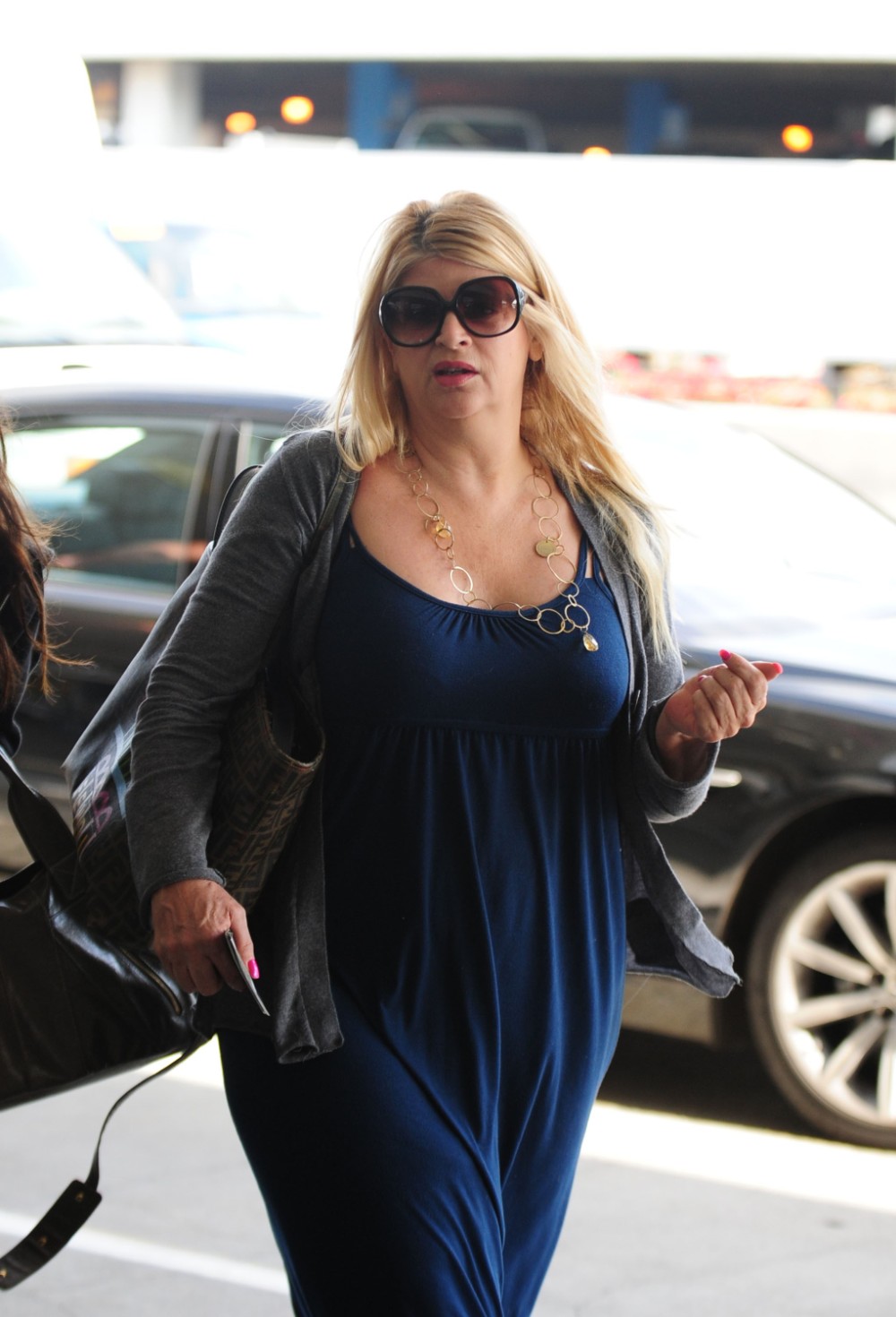 I'm starting to worry that Kirstie Alley is staying fat on purpose. I mean when was the last time you remember reading anything about her that wasn't related to her weight? Sure once in a while she posts something bizarre on her Twitter, but aside from that, not much. It started when she got really fat several years ago. Lots of embarrassing attention for that. Then she got her own show on Showtime, "Fat Actress," which was actually really good. Kirstie then became a spokesperson for Jenny Craig and lost a ton of weight, and she got attention for that. She went on Oprah in a bikini. It was a big deal. Then she disappeared for a while, gained it all back and then some, and got some more unfortunate tabloid attention for that.
Since then, Kirstie's just been getting attention for still being fat, and for a lot of talk about how she's going to lose it. Though she appeared on Oprah in April making those claims, in photos from June she appears a bit heavier, though it could just be her billowy, unflattering dress. Kirstie's been mostly out of sight since June, at least in terms of the photogs. But now she's back in People, since it's just been announced that AMC will be making a reality show with her. What's it about? You guessed it: losing weight.
Kirstie Alley is ready to get real about her weight struggles. The actress, 58, has signed on to star in a new reality series for A&E, which will follow her as she juggles trying to lose weight with life as a single mom to two teenagers in Hollywood. The untitled show, which will run for 10 half-hour episodes, is scheduled to debut sometime next year.

"Kirstie is exactly the kind of star A&E is drawn to," said A&E nonfiction/alternative programming senior VP Robert Sharenow. "Her personal life has been playing out in the media for years, but this will be the first time she'll be opening up her home to reveal her real life for the cameras."

While the actress has talked about her weight issues on TV before and starred in the 2005 scripted Showtime series Fat Actress, this marks her first foray into reality television.

In May, Alley told PEOPLE that while she had gained 83 lbs., she had a plan to get her life back on track: "I'm gonna go, 'You know what? Get back on the horse, lose the freakin' weight, and then just move forward!'"
[From People]
If you were to click on the link above for the story on People's website, you'd naturally look at that picture of Kirstie and think, "Wow, she's really doing well." They don't mention the picture in the article or give any information about it underneath the photo, but I did some digging and found it – it was taken at the Hollywood Film Festival's Hollywood Awards in October of 2007. She wasn't at her thinnest then but she wasn't massively heavy by any means. That seemed a little duplicitous to me.
I've always supported Kirstie's weight loss efforts, and because I'm overly interested in nutrition and diet I pay attention to stories about her. And I've always rooted for her. I mean whenever someone wants to improve their life, who'd root against that? But that quotation (which she originally said on Oprah) about how she's going to get back into shape bugs the living sh*t out of me. The "'I'm gonna go, You know what? Get back on the horse, lose the freakin' weight, and then just move forward!'"
That was seriously her plan? That's not a plan. Those are empty words. I have no idea what any of it means, and there's no indication of action there. It wasn't even that she's saying that to herself right at the time. That was her future plan. To say that to herself. And she's talked about how she wants to help other people lose weight. But most of what she's said about dieting, I just think this woman has no insight whatsoever. And I think it's ultimately working in her favor to stay overweight, because that's what's getting her press. I wish her the best, and I hope she comes up with an actual plan.
Here's Kirstie at L.A.X. airport on June 22nd. Images thanks to BauerGriffinOnline.