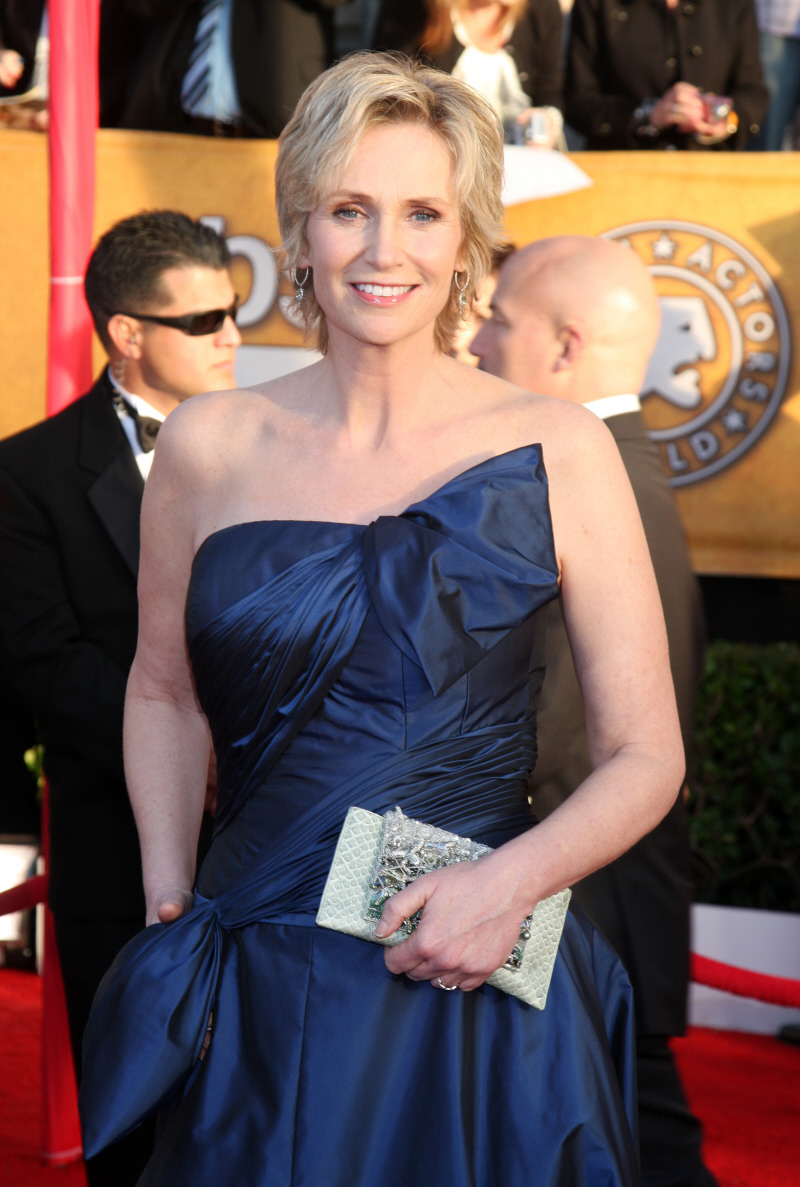 Even though I'm not watching Glee, I do love Jane Lynch. She's been a working character actress in films and television shows for so many years, and I've always found her charming, talented and amazing. It's also pretty great that at the age of 49, Lynch is having something of a career Renaissance with her role in Glee – this is basically the first time she's ever been up for any big awards, and she seems to be enjoying herself on all of the red carpets. It was on the Golden Globes red carpet that I heard her mention her girlfriend, and it was at that very moment I realized she was a lesbian. Shocking! Not really.
Anyway, it looks like Lynch does have a girlfriend, Lara Embry, and Embry is a doctor! A psychologist, to be exact. And now Lara and Jane are going to get married. Oh, Jane is going to be a doctor's wife! I bet her mom is thrilled. Seriously.
Coming off of her multiple award-show wins for her hit comedy series "Glee," actress Jane Lynch has one more reason to celebrate.

Lynch, who plays the demanding cheerleading coach Sue Sylvester on the hit Fox series, is set to tie the knot with her girlfriend, Dr. Lara Embry, in a May wedding, The New York Times' Carpetbagger blog reports.

The report lightly touched upon the news, stating, "Jane Lynch, who saw her Fox show 'Glee' win a Golden Globe and who told us she was marrying her partner, Lara, in May, summed up the night's victories for Fox: 'It's good to be on the winning team.'"

Embry is a psychologist who gained notoriety last year for her triumph in a same-sex custody battle with a former partner over their two children, shewired.com reported.

When Embry and her partner were together, both women reportedly gave birth to one child, and each adopted her non-biological child through a second-parent adoption.

Though the couple eventually split and agreed to share custody of both children, Embrey's ex single-handedly decided to separate the children and cut off all ties between Embry and one of her children.

With the help of the National Center for Lesbian Rights, the Florida courts decided that Embry "must be given the same rights as any other adoptive parent in Florida."

For her efforts, Embry was honored by the NCLR with the organization's Justice Award, while Lynch was also in attendance as a presenter at the May 2009 event.
[From The New York Daily News]
Dr. Embry sounds like a really cool woman, doesn't she? I kind of want her to be my girlfriend. And I want someone to describe me as "trailblazing" at least once. Oh, well. Congratulations to Lara and Jane, I hope they have a lovely wedding and a wonderful marriage.
Jane Lynch at the SAGs on January 23, 2010, and with her dogs on January 14, 2010. Credit: WENN.