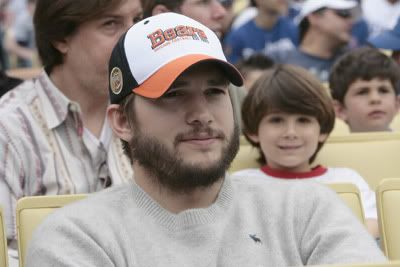 Ashton Kutcher will star in a romantic comedy loosely based on the 1975 Warren Beatty film Shampoo, in which he plays a florist:
Ashton Kutcher is set to star in a modern-day "Shampoo" set in the world of florists for Columbia Pictures, it was reported in Hollywood.
Kutcher and Kevin Bisch made the comedy pitch, which Columbia is expected to fast-track to the screen, The Hollywood Reporter said Thursday.
The show is being produced by Kutcher and Jason Goldberg's Katalyst Films and Bisch will be the executive producer.
Kutcher and his partner Kevin Bisch came up with the idea for the film, which they sold to Columbia pictures for a reported $1.5 million.
Here is Kutcher at Dodger stadium for a Dodger Angels baseball game on 5/21. He's looking rather rough, but maybe the thought of playing a florist lead him to grow a beard to assert his masculinity.