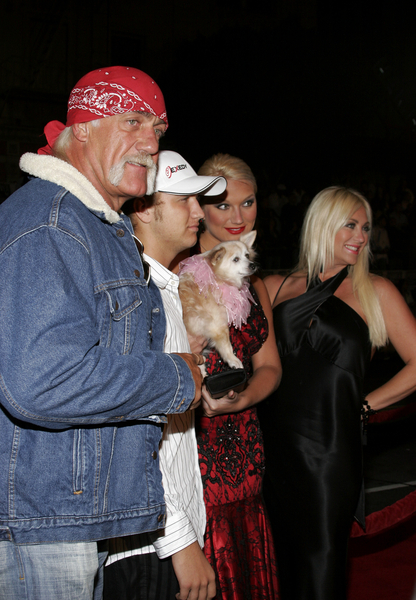 The Hogans are not my favorite people, and I suspect I am not alone in that opinion. While we might have forgiven them for their awful reality series, we really can't tolerate their attitude following son Nick's car accident. First they said the injuries that John Graziano sustained were his own fault for not wearing a seatbelt, even though it was their son who was speeding in the sportscar they bought him. On wet roads, which they blame for the accident. Not the speeding. They bought him that sportscar to stop him driving daddy's car after he crashed it. Nick is only seventeen and has a list of traffic offenses to his name.
Of course, when your mum is a champion of street racing, you never learn that speeding is bad. It is kids, really bad and you have to be as stupid and narcissistic as Nick not to know it can hurt people.
Linda Bollea (Mrs Hulk Hogan) filed for divorce just after the prospect of being sued by the family of Nick's victim reared it's head, and now it seems that assets are missing.
In her seven-page motion – called the wife's emergency motion for temporary injunction with notice – Bollea says "a marital residence in Florida" was sold for about $10 million in August, the same month their son, Nick Bollea, was involved in a wreck that left a friend critically injured – and exposed his wealthy parents to the possibility of a lawsuit.

According to real estate records, a home in Miami the Bolleas owned was sold in August; however, the price listed in public documents was $17 million.

The following month, Linda Bollea said, her husband introduced her to Tampa lawyer Les Barnett, with the idea that Barnett would represent them jointly regarding estate planning. She said, however, that Barnett and Hogan worked together to draft a post-nuptial agreement Hogan wanted her to sign.

She said that as a result of these conversations, she unwittingly gave Hogan and Barnett "confidential information" that now can be used to her detriment in the couple's divorce proceedings, the filing says. Bollea does not say what that confidential information is.

As a result of these "legal shenanigans," Bollea filed for divorce, the motion says. She says Barnett then referred Hogan, whose real name is Terry Bollea, to Ann Kerr, who is now one of his divorce attorneys.

Because of what she described as her husband's "suspicious" behavior late last year, she said she removed $1.5 million from their accounts, the filing says. But, she says, she has not spent any of that money.
Of course, why would you hide assets when it seems that there will be no cause for a lawsuit, as victim John Graziano is doing well, according to Hulk Hogan. He must be a doctor as well as a wrestler.
Hulk said of receiving the dreaded phone call informing him of the smash: "That is your worst nightmare as a parent, to hear there's been a car wreck."

"Thank God, everything's getting better – Nick's doing OK, his buddy John Graziano is getting better everyday. Thank God."
'Better is of course a relative term. John can't breathe for himself, will spend the rest of his life in a nursing home, and can move his eyes but nothing else.
If I was the Hogans, particularly given the financial position they are in, I wouldn't wait for a lawsuit, I'd just help out the family of John Graziano. I's give them as much money as they needed to take care of their son, and I'd probably take it out of Nick's trust fund.
Picture note by Celebitchy: The Hogans are shown at the premiere of the aptly-named Get Rich or Die Tryin on 11/3/05, thanks to PRPhotos.