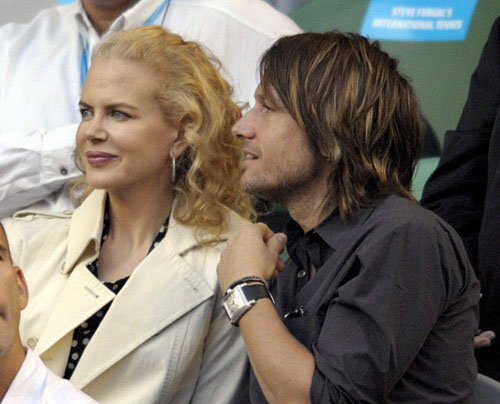 I know that couples out there have pet names for each other, like 'Muffin' or 'Honey' and even 'Schmoopy'. But who knew couples actually gave each other names like 'Fred'? Well, at least one celebrity couple has done it: Nicole Kidman and Keith Urban, and now they want us all to know about it.
Celebrity couple Keith Urban and Nicole Kidman once kept their pet names for each other secret.

Now they want the world to know that they call each other "Hank" and "Evie" – so they are using the names to make millions by selling clothing under the Hank Evie label.

In the latest in an avalanche of celebrity label ranges the country music crooner has trademarked the phrase in both Australia and the US, a move that allows the pair to start selling everything from belt buckles to clothing, shoes, bags, boxer shorts and pyjamas.

Until now the only items sold under the label were concert T-shirts, but few knew it was owned by Urban and was based on the couple's noms de plume.

Urban recently revealed during a pre-concert fan question-and-answer session that in the early days of their relationship Kidman referred to him as Hank, and he to her as Evie. It remains unknown why they chose these names.
How is revealing that Nic and Keith have pet names going to help shift sales of t-shirts? It kind of grosses me out – pet names are not my thing. Actually, given the high end range of gear that Nicole Kidman already promotes, like Chanel No 5 and whoever she's wearing to a red carpet event, I'm a little surprised she's endorsing her hubby's dull duds.
On the subject of pet names, maybe that's how Gwyneth Paltrow and Chris Martin came to name their daughter Apple. They thought it was cute, and they have similar food based pet names for each other. Obviously they forgot the golden rule of pet names – they are always hideously embarrassing, and never to be used in mixed company if you don't want to cause the gag reflex in those around you.
Nicole Kidman is still not showing much of a baby bump, in the pictures taken of her and Keith at the Australian open. She is reportedly due in July.
Nicole Kidman and Keith Urban are shown at the Australian open on January 21.