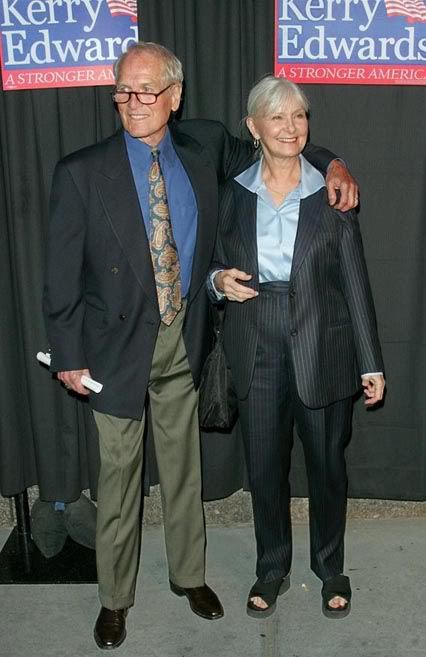 Depending on whom you believe, beloved actor Paul Newman is in a fight for his life with an undisclosed cancer. The National Enquirer, The Daily News, The Huffington Post and Showbiz Spy are all reporting that the 83-year-old legend recently underwent secret surgery for an unnamed cancer, and that the operation was successful.
Everything went well but Newman, 83, still shows no signs of slowing down and remains very involved on his passion for car racing.

He is fit enough to go out and has been seen outside his home in Westport, Connecticut, where his neighbours say he looks well.

An Enquirer reporter spoke to the superstar on January 18 as he was leaving his restaurant Dressing Room with his wife of nearly 50 years, Joanne Woodward.

The once heavy smoker did not deny he had cancer but instead sidestepped the question and responded in a gravelly voice: "As you can see, I'm doing okay."
[From Showbizspy]
However, the Enquirer makes things up more often than not, and Newman's rep denies any cancer diagnosis, saying these reports are "unfounded."
Warren Cowan revealed that he spoke with Newman about the claims by tabloid magazine The Enquirer.
Newman said: "I'm being treated for athlete's foot and hair loss… maybe the doctors know something that I don't!"
[From RTE.ie]
With so many celebs' medical conditions becoming public knowledge against their will (the airing of Heath Ledger's prescription medication regime is a good example), it's understandable that a private person like Paul Newman would want to keep his health his business. But it's notable that the usually healthy-looking Newman has appeared rather fragile lately. He and his lovely wife, Joanne Woodward, celebrate their 50th wedding anniversary on January 29—a real rarity in Hollywood.
Picture note by Celebitchy: Here are a pictures of Paul Newman throughout his long career. He is shown in the header image with his wife, Joanne Woodward. There is an image below from 1958 of them posing with a small dog from the book Men & Dogs: A Personal History from Bogart to Bowie. The newest photo of Newman is the last one below and was taken on 5/4/07 at The American Ireland Fund's Annual Gala. He is also shown working on the animated film Cars.
I hope he's ok and pulls through. We have a friend who lives in Connecticut like Newman, and she is 91 years old and still active and fit. Bob Hope and George Burns both lived to be 100.
Looking at all these old pictures of Newman makes me swoon. The guy has it in a way that's so unique.