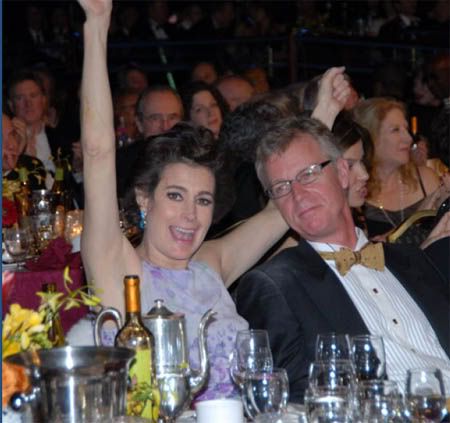 48 year-old actress Sean Young, whose career has stalled following a series of crazy stunts and a general reputation of being unstable, didn't do herself any favors over the weekend at the Director's Guild Awards. She was escorted out by security after repeatedly heckling presenters and award winners.
Apparently over-served actress Sean Young was thrown out of the Directors Guild of America awards in Los Angeles after getting into a drunken argument with director Julian Schnabel as he delivered a speech.

"She yelled out, 'Hurry up with the speech,' and he looked like Raging Bull. He shot back, 'Have another cocktail sweetheart, or would you rather finish my speech for me?'" a witness to Saturday night's row said.

"The entire room gasped," the insider continued.

"He almost charged off without finishing his speech, to the point where the music started to play. But he calmed himself and came back and finished."

Young, 48, who was sitting at Helen Hunt's table near the front, also heckled "La Vie en Rose" actress Marion Cotillard – in French; and she became unruly during a video clip of George Clooney.

"Her date was whispering to her that she was drunk, and she would push him off and slur, 'No, you're drunk. I'm not leaving. YOU leave!'" the witness said.

Young, a former model, achieved fame with roles opposite Harrison Ford in "Blade Runner" (1982) and Kevin Costner in "No Way Out" (1987).

But her feisty temperament began costing her work, and a 1988 romance with "The Boost" co-star James Woods famously ended with him suing her for harassment.
[From NY Daily News]
I remember reading a lot of dirt on how Young went crazy after James Woods dumped her and mailed him photos of dead animals. Defamer points us to this interview with her in Entertainment Weekly that chronicles the decline of her career along with the allegations by Woods. She compared herself to Jodie Foster, who was harassed by Reagan's would-be assassin John Hinckley and said that "[The Woods story] boils down to two people plotting to set me up and make me look like I was a crazy person, partially because of their own mental illness, partially because of revenge," and "How many actresses do you know whose leading man and leading man's girlfriend have sued them? And what was Hinckley? What do those two things have in common?" Craziness? "That's right. And what do you think that does to a person? You either get it together real fast, or you get eaten up by it."
Defamer reminds us that Young famously appeared on the The Joan Rivers Show in a catsuit trying to land the role of catwoman that ultimately went to Michelle Pfeiffer. She also showed up at Warner Brothers offices dressed in full catwoman gear vying for the role. It's a wonder she was passed up.
Here's the video of her on The Joan Rivers show, thanks to Defamer for linking it. It doesn't have sound:
Thanks to Access Hollywood for the photos of Young on the night in questions.