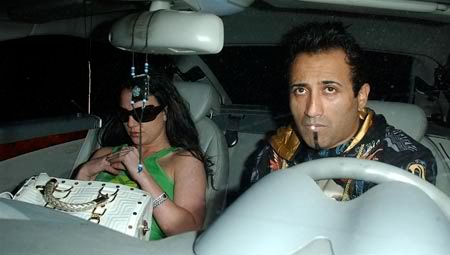 It's hard to follow what's going on with Britney lately, and part of me really doesn't want to bother, but the main thing is that she was photographed crying and sitting on the curb after her friend Sam Lufti was seen publicly berating her, presumably over her relationship with Adnan. She called Adnan and left a message asking him to come by and help her out, but he could not reach her, presumably because Lufti had turned off her handful of phones. Then Adnan tried to get into Britney's estate, but the security guard wouldn't let him in on Lufti's orders. Cops were called because some of the photographers were rushing the gates. Britney eventually hung out with another photographer instead, and both her parents came over to help her out.
Here's a good breakdown of what happened, thanks to jughood on ONTD:
-Brit and her manager Sam had a huge fight in a car outside her gated community.
-Brit got out the car, crying, and pleads with the photogs to leave her along. Video can be found on TMZ and x17′s websites. It's very upsetting footage.
-Flipie, the photog, picks up Brit and drives her to her home, then leaves. Brit calls Adnan saying "Baby, can you come get me?"
-Police show up after photogs try to enter the gated community, and leave a short time later.
-Most surprising news, BRITNEY'S PARENTS SHOW UP. "The scene inside Britney's home right now is not pretty. Apparently Britney is very emotional and cannot stop crying. Both of her parents — mom Lynne and father Jamie — are with her now." It was reported earlier today that she had begun communicating with them a little bit.
-Adnan shows up, but gets denied access to her gated community.
-Brit heads off towards Beverly Hills with photog Filipe, goes to Ralph's grocery store, then meets up with Adnan, and speeds down the freeway….

Updates: Sam Lutfi, Britney's manager, started an argument with her and the two ended up in a screaming fight. Sam continued to verbally abuse Britney as she sat barefoot on the curb at her Summit home crying holding her dog London.

Britney called Adnan for help and he heard the distress in her voice and drove to the Summit immediately. While outside the gates he was denied access as Sam Lutfi had informed the guards that he was not allowed entry. When Adnan then tried to call Britney it seems that Sam had turned all of her cell phones off…

When Jamie Spears turned up, the guards would not let him in, as Sam Lutfi would not let anyone get near Britney's house. It was only after photographers standing outside explained the situation and who he was that Jamie was allowed access to The Summit home. He looked extremely distressed.

More details about what went down tonight: Sam screamed "Go f%#* your Paparazzi boyfriend!" before speeding off. A teary eyed Spears sat on the curb holding her Yorkshire terrier 'London' and sporting what looked like a red mark on her face. Minutes after, Spears had driven down to her house, paparazzo boyfriend Adnan turned up at the gates of The Summit only to be denied access. The security at the Summit have been ordered by Sam not to let Ghalib in through the gates. Hoards of police arrived, and helicopters circled overhead…

Finalpixx, Adnan's photog company, just posted "Britney is spending her evening in the company of her parents and Adnan."
[From ONTD]
The news recently came out that Britney's hanger-on Sam has three restraining orders against him and a long history of making threats of violence against people. One of his ex friends said that Lufti manipulated him emotionally and made threats against his family. It's interesting that Sam's relationship with Britney came to a head right after his was published:
There are at least two other outstanding restraining orders against Lutfi. Documents for both cases demonstrate his violent temper. This third case, however, raises deeper and more chilling questions about Lutfi's character, and about his relationship with Britney….

Haines says their relationship was not romantic or sexual but that Lutfi was more jealous than a lover. He could be supportive one day and vicious the next, leaving voicemails tracing extremes from "You're a worthless motherf$#%r" to "I love you, man. I love you to death." He says that although Lutfi also made some feckless gestures toward an old-fashioned con job—Haines claims Lutfi borrowed about $18,000 that he did not pay back, though Lutfi's mother finally settled much of the debt—Lutfi reserved most of his energy for emotional blackmail and extortion. "Everybody hates you," he wrote to Haines, suggesting that Haines should just kill himself: "Seriously, sleeping pills, LOTS of them … " (Lutfi declined to comment for this story.)

When Haines finally cut the cord, Lutfi humiliated him. He ­e-mailed naked photographs of Haines to his family, friends, colleagues and employer. Then he texted and called incessantly, telling Haines he hoped his sister would be "raped to death," according to the restraining order. In an e-mail about Haines's mother ("that Mormon bitch"), Lufti wrote, "I hope Satan devours her flesh and bones," and said he looked forward to the day when he would "piss on [her] burial."
[From Blender.com]
TMZ has video of Britney walking around aimlessly and crying as photographers shout questions at her, and it's disturbing. She looks like she has a welt on the left side of her face but that could be due to crying as it doesn't appear in other photos later that night.
ONTD has text messages that Lufti supposedly sent Adnan telling him to stay away from her, and given his history you would assume that he's being controlling, not helpful. US Weekly reports that the fight with Sam was over the fact that he wanted her to see a psychologist and that he was telling her to talk to her mother. That all sounds supportive, but who knows if it went down that way.
One more thing happened last night – it looks like Britney and Adnan had a flat tire after they were finally reunited, as WENN has photos of it and it seems to have taken place later that night, but I could be mistaken. Do you want to start ignoring Britney again until her next major incident? I'm sorry to phrase it like it's inevitable, and with Britney it's expected. It's also hard to tell what warrants reporting as she seems to top herself every day. Maybe she'll accept her family's help after this.