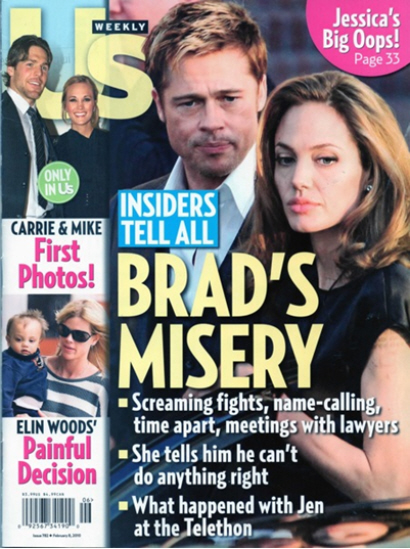 As we mentioned yesterday, the alleged Brad and Angelina split dominates the tabloids this week. On yesterday's tabloid round up, I missed a few of the cover stories that weren't online at the time, so I'm bringing them to you now. According to Us Weekly's cover story, their breakup is less about Jennifer Aniston and more about Brad being lazy and Angelina being a type-A perfectionist. Which…I'm not sure I buy? Angelina seems organized, but type-A perfectionist? Maybe. Whatever. But, the funniest part of the story is that after Angelina yelled at Brad one time, Brad "called her a bitch behind her back." Yes, because if he did it to her face, she'd smack the goat off of him so fast!
Brad Pitt and Angelina Jolie may not be splitting yet, but the new Us Weekly (on newsstands now) reports their relationship might not last much longer.

Sources tell Us Weekly that Jolie, 34, often feels she's shouldering the parental burden of their six kids, Maddox, 8, Pax, 6, Zahara, 5, Shiloh, 3, and twins Vivienne and Knox, 18 months.

"Angie felt like Brad wasn't pulling his weight," says an insider.

She's "exhausted and has been overwhelmed" with the kids, adds another. "She has nannies, but she wants to do it herself. Her kids are all in different stages now, running around, needing attention."

Jolie — whom one source describes as a "type A" who "runs the household" — is demanding on Pitt, 46, even down to the last detail, Us Weekly reports.

"She'll yell at him when he makes the eggs too runny or burns something," says a source, who points out how Pitt prides himself as "a Mr. Mom who loves to cook."

Their spats have gotten so bad recently, one source notes, Pitt took to "calling her a bitch behind her back."

For more on their rocky relationship – including how Jolie thinks she's smarter than Pitt; how she thinks Pitt favors "the boys" over the girls; how their sex life "has calmed down" and why Pitt refuses to call it quits – pick up the new Us Weekly today!
[From Us Weekly]
I actually believe some of this story – I'll buy the dynamic that Angelina thinks Brad doesn't pull his weight. I'm not sure Brad pulls his weight. I think he loves the kids, I think he's a great dad, but I sometimes think that he's maybe not as engaged in family life as he could be. Of course, that could be because we don't see him out with the kids every other day, like, say, Tom Cruise and Suri. Maybe Brad spends a lot of time with them in the house.
Meanwhile, In Touch Weekly released part of their cover story, and it has riled me up big-time. It's not the Jennifer Aniston stuff that's bothering me, though – that stuff is just as dumb as always, especially since ITW seems to want to live in Aniston's vadge. What really bothered me about ITW this week is the subtle racism employed with regards to the Jolie-Pitt children. It disgusted me.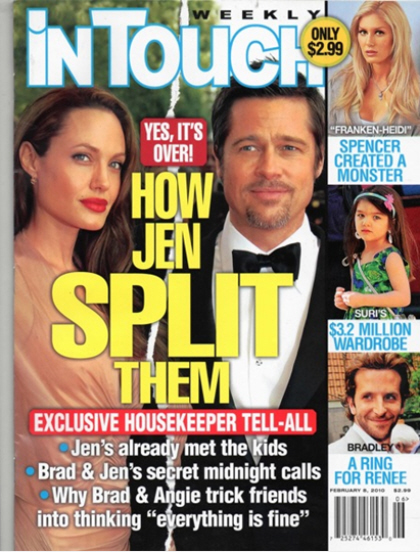 "One week in late March, I overheard security saying that Brad was meeting with [Jen] in Central Park before going to see Angelina on the set," housekeeper Anna Kowalski tells In Touch.

While Brad Pitt and Angelina Jolie may have managed to trick the world into thinking everything is fine, In Touch has exclusive details that making the decision to leave was a long time coming for Brad, who friends say has been miserable for months.

But as In Touch can now exclusively reveal, Brad's growing feelings for Jen helped ease his pain and back in March, he took great pains to arrange a secret meeting in NYC's Central Park for Jen, himself, and his daughters Shiloh and Zahara.

"One week in late March, I overheard security saying that Brad was meeting with [Jen] in Central Park before going to see Angelina on the set," former Waldorf-Astoria employee Anna Kowalski tells In Touch. "He took Shiloh and Zahara in the car with him."

The whole thing was very carefully planned, says an insider, with Brad driven to a location near the Mount Sinai School of Medicine on 5th Avenue, where he met Jen at her SUV in the park. No doubt it was nerve-wracking.

At the time, the last thing he wanted was for Angelina to find out he'd introduced Jen to their children. But for the formerly married couple, it was well worth it.

"Zahara was asleep in the car with the driver, so Jen only got to talk with Shiloh," says a friend of the actress, who adds that during the 20-minute meeting, Jen was moved to tears seeing her ex-husband's adorable daughter.

"She said that all that had happened in their past seemed to melt away that day," says the friend, who adds that after the meeting, Jen remarked that she's "proud of Brad and thinks he's a great dad."

Even though Brad wasn't happy with the way his life was going with Angelina, the friend says, Jen said, "at least he had this beautiful little girl." And for Jen, who had been trying for children with Brad when they were married, that was a lot.
[From In Touch Weekly]
I'm not Aniston's fangirl, but I think even Jennifer would be horrified to have these thoughts and feelings attributed to her, even in this fake, tabloid, phony, gross way. "At least he had this beautiful little girl"? So, Zahara doesn't count because she's black? Or because she's adopted? Brad has six beautiful children, but I guess ITW is only counting the white children. There's the sideways assumption – and not just by In Touch - that if Brad and Angelina split, he'll only care about custody of the white children, and this article just seems like more of that same crap.